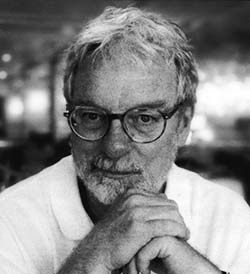 An expert in contemporary art criticism, Dr. Terry Barrett is Professor of Art Education at The Ohio State University. He is the first art educator to be a visiting artist in the Kenagy series.
Barrett, an art critic in education for the Ohio Arts Council, is the recipient of the Ohio State University Distinguished Teaching Award and is an Honored Educator of the Midwest Society for Photographic Education. He has written five books, including Art: Form and Meaning; Interpreting Art: Reflecting, Wondering and Responding; Criticizing Art: Understanding the Contemporary; Criticizing Photographs: An Introduction to Understanding Images; and Talking about Student Art.
Visiting Artist Schedule
Thursday, Oct. 20
Friday, Oct. 21
9:30-10:30 a.m.
Session with art students
Hershberger Art Gallery
9-10 a.m.
Discussion with art students
Music Center, Room 153
2-3 p.m.
Session with art students
Hershberger Art Gallery
11:30 a.m. –
1 p.m.
Lunch with art students
Westlawn Lounge
7-8 p.m.
Eric Yake Kenagy lecture by Terry Barrett, "Art and Meaning"
Rieth Recital Hall, Music Center
3-4 p.m.
Discussion with art students: "100 Artists Find God"
Ad Building, Room 28
8 p.m.
Opening reception for exhibit of work from Printworks Gallery in Chicago
Hershberger Art Gallery
Thursday evening lecture is a public event and all are welcome. The other sessions are for GC students and faculty.