Nickel Friesen encourages GC graduates to live the undivided life during commencement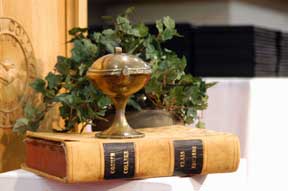 GOSHEN, Ind. — The end of a four-year journey came for 223 Goshen College graduates, members of the 107th graduating class, who accepted diplomas from Interim President John D. Yordy in the Roman Gingerich Recreation-Fitness Center on April 24.
Now, as they leave their college years behind, said Commencement speaker and Mennonite pastor Dorothy Nickel Friesen, members of the class of 2005 need to consider what kind of "traveling shoes" they will wear, and where their feet will take them. They should be prepared to make a difference in the world, Nickel Friesen said, having entered a Christ-centered college of passionate learning, global citizenship, compassionate peacemaking and servant leadership and emerging transformed.
The graduates had already started to break in their post-college traveling shoes, having taken the traditional walk across campus from the Union Building to the Recreation-Fitness Center despite the windy and cold weather. Leading the Commencement procession were current and retired teaching and administrative faculty members, including Yordy, Academic Dean Anita K. Stalter and Professor of History John D. Roth, chair of the faculty senate. The opening prayer was offered by Larry G. Miller of Strasbourg, Alsace, France, father of graduating senior Alexandre Miller and president of Mennonite World Conference.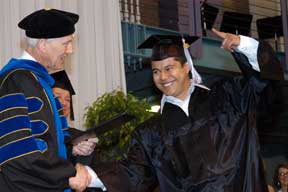 Nickel Friesen, who is conference minister for the Western District Conference of Mennonite Church USA, began her commencement address, "An Undivided Life," by remembering when, less than a month ago, she watched the televised funeral for Pope John Paul II and was surprised to see that he was being buried in very simple footwear that turned out to be his leather shoes – "ones he wore in his earthly life, walking shoes that had taken him into homes of the sick, to war-torn Central America, to be seen in person by more people than anyone else in history," Nickel Friesen said. His burial attire had been a request by the late pontiff, she noted.
The shoes became a metaphor for the holy life that the pope led. Nickel Friesen said: "His earthly life and his heavenly life were not divided. Today I ask you, 'What shoes are on your feet?'"
Nickel Friesen said it is important to live life with consistency and wholeness. We live in a country conveniently divided by others into politically polarized Red States and Blue States, the ordained pastor observed. Sadly, political voices and Christian voices were "both strident" during the 2004 presidential election, Nickel Friesen said, as Christians in America seem to have divided their lives into segments – and their relationship with Christ does not seem to affect their daily lives.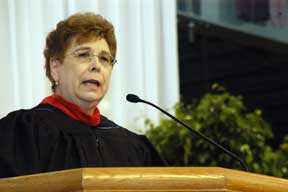 "We have divided our lives too much. We have separated our talk and our walk. We have kept Jesus in the church building and kept him from the people who make up Christ's body here on earth," said Nickel Friesen. The graduates, she said, will be asked to make lifelong marriage commitments, job choices and stewardship decisions. "What will be your intention?" she asked. "Will Jesus inform your selection of jobs, of how you use your money and your credit cards?"
Their shoes would take them to other countries, to walk hospital halls, into difficult situations, Nickel Friesen said. The graduates are equipped with their Goshen College education to ask hard questions, as Jesus did in his day – to speak truth to power, to speak justice – and to wear the shoes of discipleship in devoting their lives to sharing God's love and seeking justice. "It's the small stuff in life that's going to make a difference: how you live, talk, spend your money, treat your neighbors," she continued. "Jesus said, 'I tell you the truth, whatever you did for the least of these brothers and sisters of mine, you do for me.' Small things add up to big things."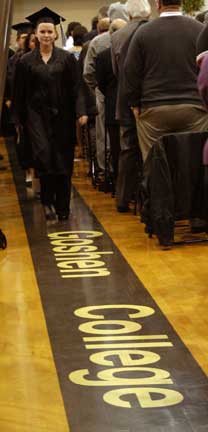 After Nickel Friesen concluded her message by directing the graduates to "walk on," Yordy presented the graduates with their diplomas while Stalter read their names and noted which scholars received degrees with honors. The congregation then sang the hymn "Guide my feet" and the service benediction was led by Anne Stuckey of Somerset, Mich., mother of graduating senior Matthew Stuckey.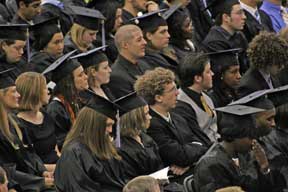 During the ceremony, 223 degrees were conferred during the ceremony, including 106 graduates from Indiana, 29 international students and 36 graduates in the Adult Programs and Florida extensions. The 2005 graduating class represents 24 different states and 15 countries. Thirty-seven percent of traditional graduates have signed the Graduation Pledge that reads: "I pledge to explore and take into account the social and environmental consequences of any job I consider and will try to improve these aspects of any organization for which I work."
During the student-led Baccalaureate worship service on Sunday morning, Regina Shands Stoltzfus, former Goshen College Assistant Campus Minister and who currently is serving as Associated Mennonite Biblical Seminary's Director of Admissions and Financial Aid, offered the sermon, "Going Out, Speaking Truth" based on Ephesians 4:1-6.
Shands Stoltzfus told the graduating seniors, "when you go out and about in the world, remember who you are. You are members of the household of God, you are the body of Christ, you are where God dwells."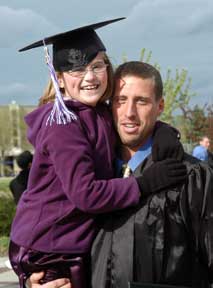 She continued, "The Ephesians text holds together two very different, but complementary messages – we are one, and we are different. There is one aspect of our faith identities that holds us together as a people and as a worldwide community, yet we function in different roles and realize different aspects of truth as we go out into the world. The remarkable thing about this Scripture is how clearly it announces that the church's potential as a dwelling place for God depends on community, on being joined together" in the midst of diversity.
The challenge, Shands Stoltzfus said, "is to keep unity, yet speak truth. One shouldn't be forsaken for the other. New life, new creation is one that is signified by unity. God has invested the future in us – we, as the church, are the locus of reconciliation. But it does not come about through wishing, or good intentions alone. It takes courage, honesty and the willingness to work for the things that make for peace. May you find all of this, and more as you journey into the next phase of your lives."
The commencement ceremony ended a weekend of celebration activities which included a senior nurses' pinning, departmental receptions, senior art exhibit, the senior program talent show and a president's reception.
Goshen College, established in 1894, is a four-year residential Christian liberal arts college rooted in the Anabaptist-Mennonite tradition. The college's Christ-centered core values – passionate learning, global citizenship, compassionate peacemaking and servant-leadership – prepare students as leaders for the church and world. Recognized for its unique Study-Service Term program, Goshen has earned citations of excellence in Barron's Best Buys in Education, "Colleges of Distinction," Kaplan's "Most Interesting Colleges" guide and U.S.News & World Report's "America's Best Colleges" edition, which named Goshen a "least debt college." Visit www.goshen.edu.
Editors: For more information, contact News Bureau Director Jodi H. Beyeler at (574) 535-7572 or jodihb@goshen.edu.