Showalter presidency and contributions celebrated in day-long farewell events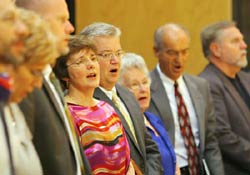 GOSHEN, Ind. – As students, faculty, staff, community and church leaders, benefactors and alumni filled Sauder Concert Hall on the morning of Sept. 20 to say thank you and farewell to President Shirley H. Showalter for her service to Goshen College, many wore scarves in all shapes and colors to honor a leader whose trademark accessory connects to her passion for relationships and cross-cultural learning.
Music opened the special convocation, held in the building completed in 2002 for which Showalter led the fundraising campaign to build, as the Chamber Choir, directed by Associate Professor of Music Debra Brubaker, performed the heartfelt "Jesus, I Adore Thee."
After a welcome by Provost John D. Yordy, who has been named interim president and will begin serving in that post on Oct. 1, surprise speaker and mayor of the City of Goshen Allan Kauffman presented Showalter with a ceremonial key to the city on a maple leaf-shaped plaque. Kauffman, a 1971 Goshen College graduate, began his term as mayor around the same time that Showalter was inaugurated in 1997. He said President Showalter "has been good for Goshen College, and she has also done so much to strengthen town-gown relations."
Showalter, who resigned her post on Aug. 1, will serve her last day in office on Sept. 30 after teaching and serving as president of Goshen College since 1976. In introducing Showalter at the convocation, Goshen College Board of Directors Chair Virgil Miller, said, "This is a bittersweet day saying goodbye to our 14th president – a colleague, a friend, a teacher, a mentor. I invite you to listen to President Showalter, as she delivers her farewell speech, with thankfulness for an articulate president who believes in the loftiest goals of Christian higher education, in the ability of a metaphor to communicate complex ideas and who believes in you and that you have a special place here at Goshen College."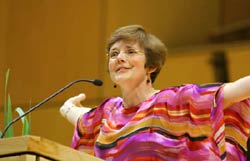 Showalter titled her final address as president of Goshen College "Joy and the Goshen Journey." She began by sharing a memory from when she and her husband Stuart led a Study-Service Term group to Haiti in 1981, when one student, after arriving at the Port au Prince airport, opened a bus window and greeting the whole country with an excited "Bon Soir!"
"To me, that little gesture signifies a special exuberance for loving, living and learning that I can only call 'Goshen joy.' Its ingredients derive from a hunger for beauty, truth and a better world," Showalter said.
She expressed the sadness she feels at leaving Goshen College, but also the joy of having been part of the life of the 110-year-old institution. "We can experience joy today because we have a treasure here that started at Creation, was fulfilled in Jesus Christ, is a by-product of the suffering of 16th century Anabaptists, has a long tradition of learning in the academy and has found a home in this place called Goshen College," she said.
Showalter calculates that she has spent 28 years – or 10,311 days – at Goshen College, teaching in the English department as well as history, women's studies and through grant programs, for two decades before accepting the God's call to become the first woman president of Goshen College. In reflecting on her tenure at Goshen, she described the campus as research center, as classroom, as worship center, as cheering section, as playground and as launching pad.
The campus is also home to sacred spots, said Showalter – not only those places where she has experienced some of the most meaningful worship services of her life, but seemingly everyday places. One is at the south end of the Union Building where students departing to and arriving home from Study-Service Term host countries meet family and friends. "It is a place that honors our relationships to each other, our courage to take journeys by faith and our joy in each step," she said.
Then Showalter offered blessings to all. "I want to thank each person here today," she said, then offered gratitude specifically for the work of the members of the President's Council who are carrying on administrative leadership of the college led by Yordy upon her departure, as well as her assistant and her husband and family.
Showalter concluded by saying, "The joy I feel today follows many moments of working, playing, fasting, praying, mourning, rejoicing, disputing and reconciling. It comes from knowing I love you and reveling in that feeling. Thank you for this joy, joy, joy, joy I've got down in my heart."
Bringing ceremonial closure to her presidency, Showalter invited her mother to the stage to give a closing prayer at the convocation; Barbara H. Becker also offered prayer at her daughter's inauguration seven-and-a-half years earlier. The audience stood to offer a collective gift to Showalter – an 800-voice offering of the hymn "Praise God from whom all blessings flow."
Other events of the day included a luncheon at which Miller also spoke, saying that "the next president of Goshen College will step on sturdy foundations laid by the Showalter administration" and that there is a strong interim leadership structure in place, making for a smooth transition. Also speaking were Yordy, alumnae and former Bank One president Karen Thomson and Goshen College Vice President for Institutional Advancement Andrea Cook. Carlos Romero, executive director of Mennonite Education Agency, offered prayer for the college as an educational institution of the Mennonite Church USA.
Later in the afternoon, a campus farewell reception was highlighted by an open mic period during which current and former faculty and staff shared memories and appreciation of Showalter throughout her Goshen career. A special treat – a Showalter favorite, chocolate-covered marshmallows made by Olympia Candy Kitchen in downtown Goshen – was served along with other refreshments. In addition, a unique wall piece created by area fiber artist Patty Watters was presented to Showalter; the tapestry, titled "Interwoven," was braided with purple, the Goshen College school color, and items reflective of Showalter's gifts and interests, including lines from a hymn, bird feathers (symbolizing a poem written for her at the time of her inauguration by alumnae poet Julia Kasdorf) and quotes from favorite authors and thinkers quoted by Showalter in public writings.
For more resources about Showalter's administration, including a career timeline with accomplishments and highlights, and Goshen College's plans for a strong transition under Yordy's leadership, go to https://www.goshen.edu/news/For_the_Media/Presidential_transition
Goshen College, established in 1894, is a four-year residential Christian liberal arts college rooted in the Anabaptist-Mennonite tradition. The college's Christ-centered core values – passionate learning, global citizenship, compassionate peacemaking and servant-leadership – prepare students as leaders for the church and world. Recognized for its unique Study-Service Term program, Goshen has earned citations of excellence in Barron's Best Buys in Education, "Colleges of Distinction," "Making a Difference College Guide" and U.S.News & World Report's "America's Best Colleges" edition, which named Goshen a "least debt college." Visit https://www.goshen.edu/.
Editors: For more information, contact News Bureau Director Jodi H. Beyeler at (574) 535-7572 or jodihb@goshen.edu.