Goshen College Board of Directors and Mennonite Education Agency announce leadership transition for 110-year-old institution
From the Goshen College Board of Directors in consultation with Mennonite Education Agency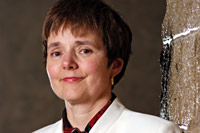 GOSHEN, Ind. – Chair of Goshen College's Board of Directors Virgil Miller announced today to college faculty, staff and students that President Shirley H. Showalter is resigning her position in order to join the Fetzer Institute of Kalamazoo, Mich.
Showalter, the first woman appointed to head the 110-year-old institution, will end her service in the fall semester, according to Miller. He said the Executive Committee of the college's Board of Directors and Mennonite Education Agency (MEA), which represents Mennonite Church USA, are in consultation to define next steps that include a plan for interim leadership and preparation for the search process.
"This is a moment in the college's history when we have both challenge and opportunity, as in any transition," said Miller. "The college has had an energetic, creative leader in President Showalter. The Board of Directors extends deepest thanks to her for her service and vision in guiding this Mennonite institution."
Showalter was named president in 1996, and began her tenure as the college's 14th president on Jan. 1, 1997. Prior to accepting the post as president, she was a member of the Goshen College English Department, having begun her career as a professor in 1976.
During Showalter's administration, Goshen College added several new academic programs of study, including American Sign Language Interpreting, Peace, Justice and Conflict Studies, Anabaptist-Mennonite History studies, International Studies and Special Education. The college's ranking in U.S.News & World Report's "America's Best Colleges" rose from the fourth to third tier in the national "liberal arts-bachelor's degree" category and is cited as a "least debt college" for graduating students with less debt.
In addition to enrolling a high percentage of international students, Study-Service Term (SST) was also recognized by U.S.News as an exceptional program. Continuing to give students a unique international education experience that reinforces global citizenship and compassionate peacemaking, several new SST host countries came into being since 1997, including Ethiopia, Senegal and Cuba.
Physical legacies of Showalter's nearly eight-year tenure as president include the new Goshen College Music Center, completed in the fall of 2002, as well as upgrades to residence halls and groundbreaking for an apartment-style student housing facility. The college has received grants for projects such as the "Calling Authentic Leaders for Life" project – supporting vocational programs for students that emphasize church leadership and service opportunities and youth ministry program – and the Plowshares Peace Studies Collaborative among three Indiana-based schools rooted in peace church traditions, Goshen, Earlham and Manchester colleges. As Showalter departs, a new program creating an Entrepreneurship Center on campus is starting.
"I have loved this college for nearly 30 years. The students and faculty of this remarkable place will always be in my heart," said Showalter. "I have witnessed so many ways in which Goshen College provides and guides opportunities for meaningful Christian higher education. My prayer will always be that God will continue to bless Goshen College, its leadership, its church and its community."
Miller said that a special board meeting is set for Aug. 18 to further coordinate efforts with MEA and its executive director, Carlos Romero, to establish a transitional timeline, approve and activate an interim leadership plan and determine the process for identifying gifts and qualities of a new president. With a strong cabinet of vice presidents appointed by Showalter, Miller said, the educational mission of the college will continue as these plans are initiated.
Romero said, "We are losing an articulate voice for Mennonite education as President Showalter moves on to a new opportunity. We also note that many of the accomplishments of her administration are not ends in and of themselves, but forward-looking foundational work on which exciting things are being built."
Miller pointed to Goshen College's work in the past several years to engage faculty, staff, students, alumni, church representatives and community in newly articulating the Christ-centered core values that characterize the institution as a significant undertaking of Showalter's administration.
"Since affirming the core values, the campus has had a sharpened sense of mission and purpose. This set of distinct Christ-centered values – to create passionate learners, global citizens, compassionate peacemakers and servant-leaders – is the framework of an exciting strategic planning process that will guide Goshen College as it continues to prepare students for service in the world and the church," said Miller. "And of course, these core values will vitally inform the search for Goshen College's next president."
Showalter will become vice president for programs at Fetzer Institute. Fetzer is a private foundation that supports research, education and service programs exploring integral relationships among body, mind and spirit and fostering awareness of the power of love and forgiveness in the global community. She said in making the decision to move on, she has appreciated the support of her husband Stuart, who is director of career services at Goshen College, and their adult children, Anthony and Kate.
"Goshen College's future is bright because so many people of faith have committed their lives to bringing out excellence in Christian liberal arts learning," Showalter said. "This beloved community of dedicated individuals is nurturing future leaders for the church and world."
# # #
For more information, contact:
Rachel Lapp, Goshen College Director of Public Relations
Phone: (574) 535-7571; E-mail: racheljl@goshen.edu