Construction breaks ground on new campus apartments for senior students at Goshen College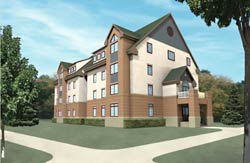 GOSHEN, Ind. – Bulldozers have begun to move dirt, but the hammers haven't started pounding yet. Construction of a new four-story apartment-style building on the Goshen College campus, to house seniors in 16 apartments, began the first week of June with the intention of being completed by the fall of 2005.
According to Vice President of Student Life Bill Born, the 25,000-square foot apartments will be "very residential in feel," with distinctive architecture, though still related to campus in design. The building will house 64 seniors, and each apartment will have four single rooms (though sharing will be an option for students who want to save money), two baths, living space and a kitchen. "This is a good option for seniors who are looking for more independence, but also for the amenities of living on campus, like Internet hook-ups and regular maintenance, and no commute, utility deposits or landlord issues," Born said.
The building's design incorporates a number of unique features, making it both aesthetically attractive and environmentally friendly. The building's design resembles that of Kulp Hall, the college's first permanent residence hall built in 1906, with its roof lines, windows, finish and front balcony. Another unique feature of the building is that the attic space is also used efficiently as apartments with spiral staircases and a loft overlooking the living space.
As a college committed to being good stewards of the earth's resources, Born said, "from the beginning, the building's design took into consideration its environmental impact. We are paying more at the front end so that the building will have environmental and energy benefits in the long run." Some of the "green" aspects of the building include metal roofing, an environmentally sensitive climate control system and plenty of natural lighting.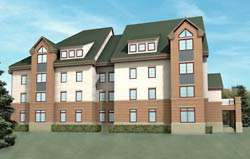 According to Vice President for Finance Jim Histand, the apartments will cost $3.28 million and are being funded through a bond issued to the college by the City of Goshen, though the city has no liability for it. The facility will be entirely self-funded, with the bonds being repaid over 30 years out of revenues generated by the facility itself.
Histand said, "This is not designed to pull nonsenior students from existing residence hall spaces and is being constructed in phases to meet demand and enrollment. This type of housing is very popular and exists on most college campuses and has an important recruitment effect. Hopefully it makes Goshen an ever more attractive option for potential students."
Conversation about building apartment-style housing at Goshen College became more serious two years ago when campus renovation planning began and students were asking for independent on-campus housing options. The apartments will offer another residency option in addition to those already available to students, which includes three traditional residence halls, college-owned houses for married students and families, two junior/senior halls and small-group houses for juniors and seniors.
"We are hearing that more of our juniors and seniors want the accessibility of living on-campus," said Born. "The feeling on campus will change with the presence of our seniors in these apartments. All classes of students will be crossing paths naturally and hopefully engaging each other to a greater degree than they are able to now. This gives a top-notch option for senior residency, hopefully drawing more students back."
Over the past three years the number of seniors who chose to live on-campus has increased, reflecting national trends. In the fall of 2001, 19 percent of seniors chose to live on-campus. In the fall of 2003, the percentage rose to 39 percent of seniors.
Related to the building of apartments for seniors is a change in residency criteria for students to live off-campus, with the goal of having more seniors living on-campus. The off-campus living eligibility will change from those who have 90-plus credit hours earned to those with 112-plus credit hours earned; from age 22 at the outset of the semester to age 23 during a semester; from living only with parents to living with immediate family members. The change will first affect the eligibility to live off-campus of the class of 2008. Current students will have the choices currently in place for housing, along with the additional housing option of apartments.
Born said, "We would not have pursued four-year residency without this additional option for students. We wanted to offer better housing options to juniors and seniors students. We want to continue to work at helping students have a stronger sense of belonging during their college years here and we think this will help with that."
The college is currently only undertaking phase one of the apartment building, with a phase two possible pending enrollment growth and student demand. Phase two would connect to the phase one building and mimic its floor plan of phase one, though it would hold a total of 96 beds.
Ancon Construction Company Inc., based in Goshen, is building the apartment-style residence; Ancon also constructed the college's Roman Gingerich Recreation-Fitness Center in 1993.
The college is also in the midst of $8.9 million renovations, which began last summer, on all residence halls and the addition of a four-story connector between Kratz and Miller Halls. The renovations will add air conditioning to Kratz, Miller and Yoder Halls, in addition to other upgrades, and the connector will offer a new coffee shop managed by business students, floor lounges, study rooms, a laundry room, kitchens and a game area. By the fall of 2005, all 660 beds on campus will either be newly constructed or renovated during the previous two and a half years.
Goshen College, established in 1894, is a four-year residential Christian liberal arts college rooted in the Anabaptist-Mennonite tradition. The college's Christ-centered core values – passionate learning, global citizenship, compassionate peacemaking and servant-leadership – prepare students as leaders for the church and world. Recognized for its unique Study-Service Term program, Goshen has earned citations of excellence in Barron's Best Buys in Education, "Colleges of Distinction," Kaplan's "Most Interesting Colleges" guide and U.S.News & World Report's "America's Best Colleges" edition, which named Goshen a "least debt college." Visit https://www.goshen.edu/.
Editors: For more information, contact News Bureau Director Jodi H. Beyeler at (574) 535-7572 or jodihb@goshen.edu.