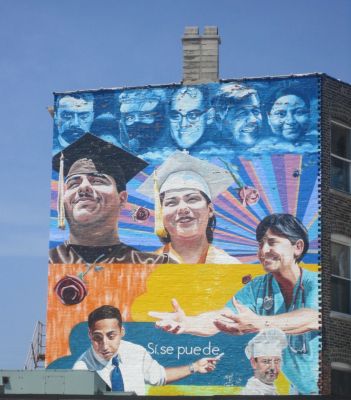 Jose Guerrero, a muralist, printmaker, and community activist, introduced the Latino SSTers to Pilsen's public art on a walking tour of the neighborhood.  Pilsen is one of the country's largest Mexican and Mexican American communities.  They learned about the significance of the mural art and about the history of the neighborhood. One of the highlights was visiting the National Museum of Mexican Art, which features Mexican, Latino, and Chicano art and culture.
The students also visited a primarily Mexican and Mexican American neighborhood located next to Pilsen known as "La Villita" or Little Village.  This neighborhood is known for its prosperous shopping area that attracts visitors and residents from all over Chicago.  They also talked to a pastor from a church in Little Village who is leading a hunger strike to demand Obama's administration to suspend most deportations.
The Latino SSTers also had a tour of what is known as "Paseo Boricua", the six block portion of Division Street between two large steel sculptures of the Puerto Rican flags.  This area has become a leading center for Puerto Rican culture, food, business and politics in the United States. This walking mural tour gave them insight into the history of that community and its many landmarks.
Another highlight of Paseo Boricua was Fiestas Puertorriquenas or Puerto Rican Festival and Parade. The festival is considered one of the elite Hispanic festivals in the country.  This festival features Puerto Rican food, merchandise, arts & crafts booths, and carnival rides. This Parade highlights the Puerto Rican Heritage and Culture along with Community Organizations, Businesses and Civic and Political Leaders.