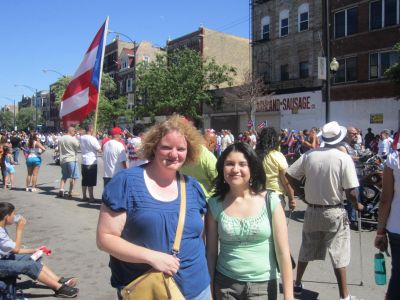 Latino Studies SST was last offered in 2012.
Drawing on the learnings of 40+ years of international education, Goshen College students can study the local Latino culture for a semester in Northern Indiana and other locations in the Midwest, which have seen significant demographic changes in the last 20 years.
Students will take Spanish classes during the semester (two semesters of Spanish is required beforehand);
They will study Latino history, literature and culture;
They will take field trips to Latino communities in such places as Chicago and Toledo to learn about both the rural and urban experience;
They will serve in local organizations, church programs or schools that are linked to the Latino community;
They will connect with a local Latino family on a regular basis to practice language skills and learn about the culture;
And they will process their experiences as a group.
Can this program work with my tight academic, athletic or family schedule?
This program is designed to give you the flexibility you need with your schedule while staying close to campus. You can take two classes plus connect with a local family in a fall semester, and then take two classes and serve in a local Latino organization in a spring semester.
Possible activities and speakers:
Tour Latino museums and cultural festivals
Listen to Latino community activists in Chicago and Goshen
Learn about migrant workers' struggles for justice in Ohio
Attend traditional cultural events like quinceañeras and weddings
Meet Latino artists, writers and musicians
---
Latest Blog Posts
July 29, 2010

-

Last week the SSTers finished their summer course of Latino Studies.  As their final assignment for the course, the students were asked to do both individual and partner presentations on themes they thought made an impact on their studies or was really important to know.  The students did a great job on both the individual ... Keep reading »

July 16, 2010

-

This week Latino SSTers spend two days in Toledo, Ohio, to visit the Farm Labor Organizing Committee (FLOC) and Campaign for Migrant Worker Justice (CMWJ).  FLOC and CMWJ work "to support the human rights and self-determination for those in the farm labor and immigrant rights movements."  While SSTers were there, they served as volunteers interpreting ... Keep reading »

July 16, 2010

-

Last week we were honored to have Carl Marcum with us serving as a guest lecturer for the Latino Literature Seminar. Carl Marcum is the author of Cue Lazarus and the forthcoming Camera Obscura in 2011. Through this seminar they learned about well-known Latino writers and about different topics that are prominent in Latino literature such as ... Keep reading »