September 6, 2010, Jamaica: Day 5
Today the students had their first day of classes. Felicia Campbell, our local Jamaican ASL/JSL teacher, started the day out for the students. After morning classes, the students, accompanied by Josh and Felicia, walked to the best little jerk chicken place in Mandeville; it was highly recommended by the locals.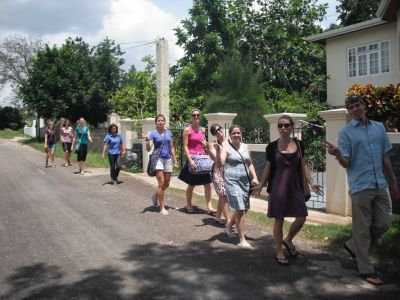 There we feasted on jerk chicken, jerk pork, rice and peas and festival (a deep fried "biscuit"). We also had boxed juice to drink.
After eating, we hopped in a bus to tour the city of Mandeville.
Some of the students also hit up the local ATM for some spending money. Poor Sarah struggled to comprehend the simplicity of entering her PIN before being able to get funds. With the assistance of Josh, she finally figured it out.