September 3, 2010, Jamaica: Day 2
Rise and shine!  Day two began with a walk down to the beach to see the amazing ocean.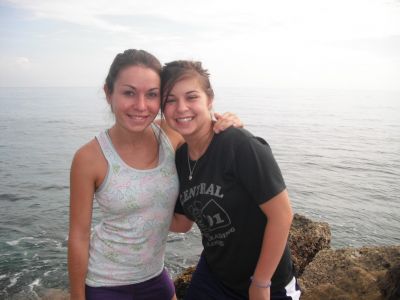 From there, we hopped in the bus and went to Dunn's River Falls.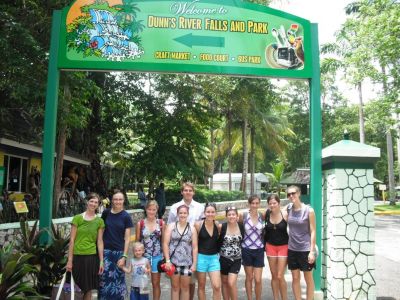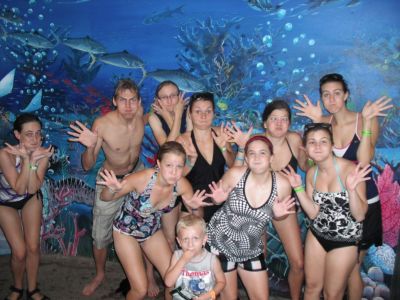 We then headed out for our first day of ocean snorkeling!  Josh went out with the students to make sure they were doing well, and then he left the group to swim back and get the boat.  Josh and Joel, the boat driver, went to pick the students up out where they were.  While getting out, Brittany accidentally touched a sea urchin, referred to as a sea needle by the locals.  We brought her back to get the "local treatment" for the sting.  Lindsay was more than happy to assist with the recovery process.  Brittany is now doing well; she is a trooper.  Most of the students headed out to a reef.  This was said to be the best snorkeling place around.  It indeed was.  The students swam in approximately 12 feet of crystal-clear water and saw incredible sea life.
We came back for a Jamaican dish made by Millicent.  Rice and peas (kidney beans) along with brown stew chicken.  The students, and SST leaders, thoroughly enjoyed the delicious meal.
The evening ended with a 30-minute Patois (local dialect, pronounced patwah) lesson by Lindo.  From there, Lindo decided to play some Jamaican reggae music and an impromptu Jamaican dance lesson ensued.  The students jumped right in for the dance instruction.  The night ended with the students showing the staff their American dance moves.  It was a sad rendition of the cha cha slide.
Our day starts at 10:00 tomorrow with further orientation for the students.