September 2, 2010, Jamaica: Student Day 1
Today was the day!  Josh, Program Director, and Milo, our local driver, met the group at the Montego Bay airport.  Josh donned his camera and a large, orange banner welcoming the students.  Rachel and JP were busy at the villa making sure everything was ready for the students.
The students had their first adventure today even before leaving the airport.  They went through the third degree in order to get into the country.  Some made it through the interrogation much easier than others.  When Josh saw the first students begin to exit the airport, he began waving the sign and drawing the attention of everyone except for his students.  The first two made it out of the airport looking like they had just seen a ghost.  It seems that the interrogations may have scared many of them.  Apparently customs found it hard to believe they were visting Jamaica for 90 days while staying with someone they have never met.  They were thrown countless questions for which they did not have the answers.  They all held it together like the amazing students that they are, and they were all granted access.  They made it!  We were so proud of them.
Describing Customs: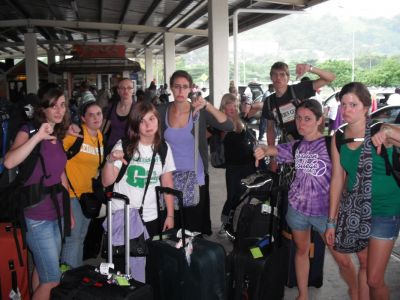 Describing Jamaica: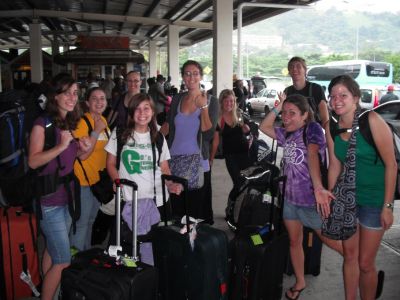 From there, we jumped in our vehicle, packed like sardines, and headed East. We were thankful for a cool bus trip.  Josh made the trip over without air.  That was a good time had by all.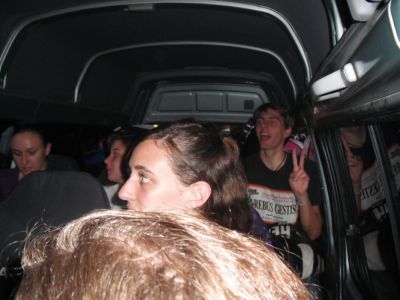 Each student was allowed one phone call in order to call someone from home to let them know they made it safely.  It was highly entertaining to hear the calls.  By far, the most discussed topic was the customs adventure.  Milo and Josh functioned as the tour guides; mostly it was Milo.  They answered the questions from students, and filled them in on some of some key information.  We saw horses, goats, dogs, locals, beaches, the ocean, and some beautiful greenery.  Josh pointed out where our final field trip will be, Glistening Waters famous luminous lagoon, and some additional areas.  The students saw the location where Christopher Columbus came into Jamaica.  Just before Ocho Rios, we stopped at a local grocery store for a stretch break and to purchase some additional food supplies.  We drove a bit further past Ocho Rios to our final destination in Tower Isle.  Our villa is located two miles East of Ocho Rios.  We entered the gated villa community, and were at our villa in no time.  The students were met by Lindo and Millicent, the staff at the villa.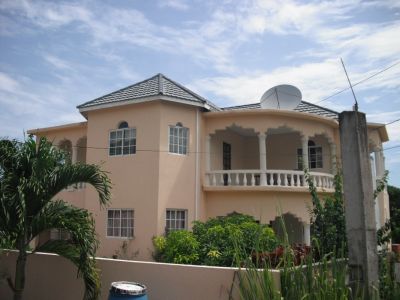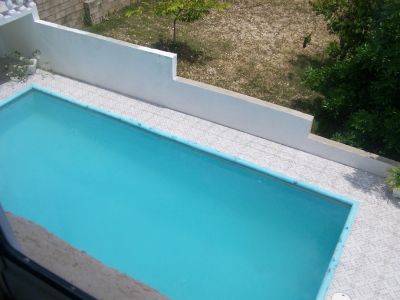 We feel extremely blessed to have found a private villa for significantly less than any hotel in the surrounding areas.  We always make safety a priority for our students.  Additionally, we have to be prudent spenders on well planned budget.  We are in a beautiful two-story, five bedroom, five bathroom, villa with an ocean view.  We also have an outdoor pool.  We are located in a ritzy villa area minutes from the ocean.
Rachel made dinner for us all.  (Thanks Rachel!)  The students just jumped right in to help as needed.  (Thanks students!)  We had spaghetti, meatballs, bread, salad, sweet tea, and water.  Stefan, our gluten-free SSTer, had Jamaican jerk sausage and baked beans.  Tomorrow evening we are having a Jamaican cuisine prepared by a local, Millicent.
After dinner, some students rested, some journaled, and some decided to go for a swim.  Out at the pool, they met another staff member, Ricardo; he is our security and makes sure we are always safe.  Stefan and Ricardo hit it off right away, and they had a great time chatting out by the pool.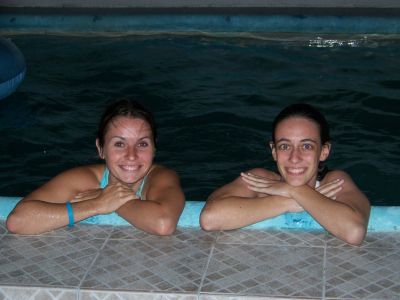 Some of the students decided it would be good time for an introduction to snorkeling, so Josh donned his snorkeling gear and headed to the pool for their first lesson; he went through the basics of snorkeling with them.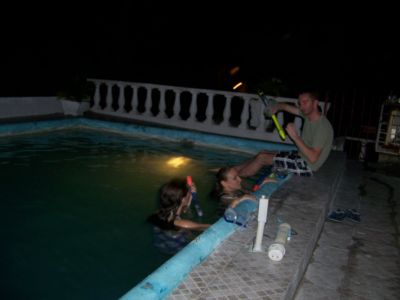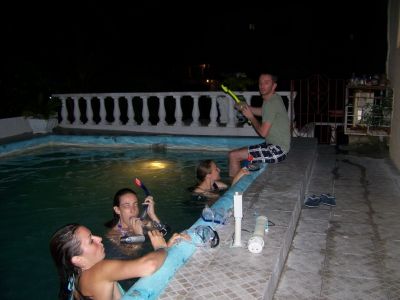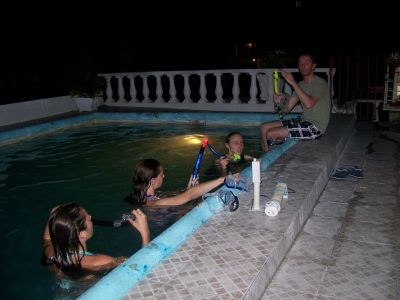 By the end, the students had it down!  They were clearing their masks, diving under and coming up clearing their snorkel, and testing out their new equipment.  It was a blast!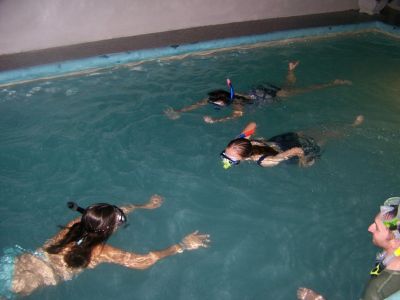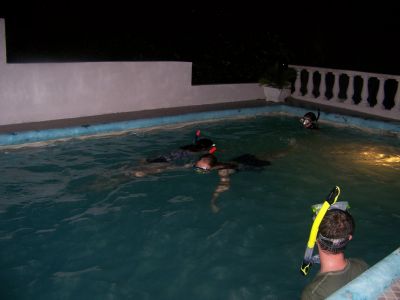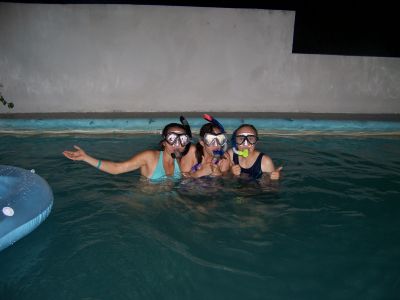 The evening came to a close, and the students began to wind down for the night. A laptop was provided to the students to quickly check emails and/or Facebook.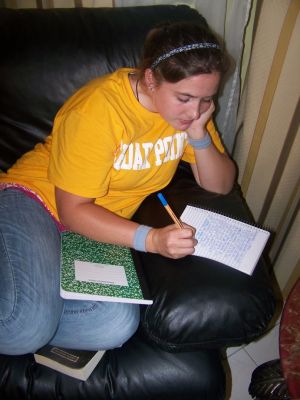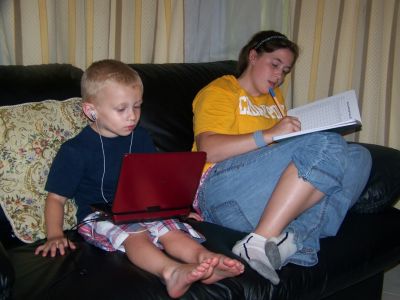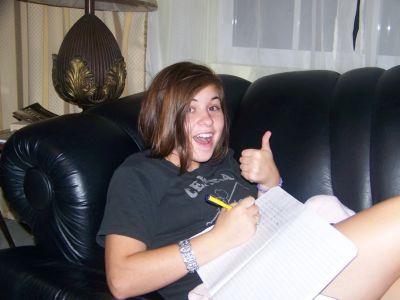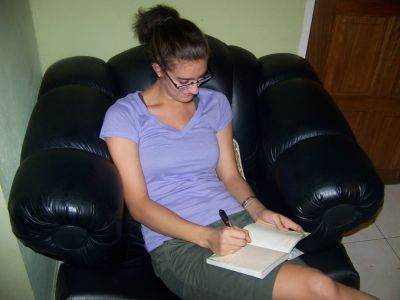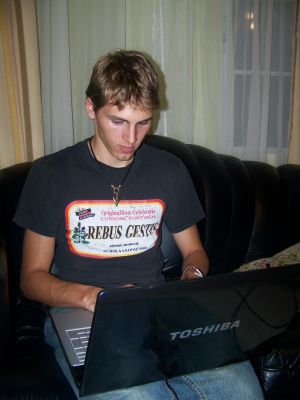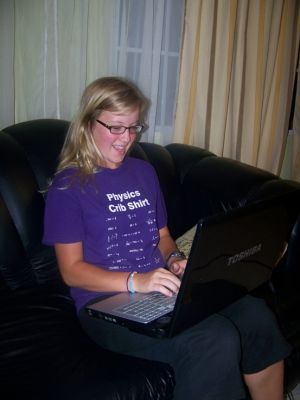 JP loved having company, and he was quite exhausted. Those are stickers somehow attached to his face. 🙂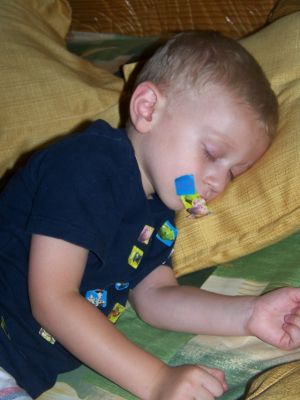 Our day Thursday, begins at with an 8:30 ocean visit, for the early risers, 9:00 group breakfast, and 9:30 for the second ocean visit with Josh.  Finally, we will head to Dunn's River Falls, and then we will go snorkeling.  We will then come back to the villa for dinner, relaxing, and discussions.