Click here to view our Student Technicians.
Paul Housholder  – Associate Director, ITS
Paul Housholder gives direction to the ITSMedia department,  managing the departments initiatives and projects.  A considerable portion of his time is spent in project management, designing audio visual systems, purchasing equipment and keeping an eye on budgets.  A 10+ year veteran of the department, he notes that the pace of change has been "incredible" since he began work at Goshen College.  In addition to his work at ITSMedia, Paul works with David Kempf overseeing the support of the Globe, the campus radio station.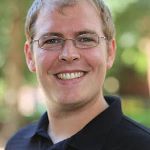 David Kempf – AV/IT Systems Manager
As the AV/IT Systems Manager, David supports computing environments for AV systems across campus, including the ASL Lab, Multimedia classroom computers, and specialized broadcast environments in GCTV and FiveCore Media.  He is also the Chief Operator of WGCS, where he manages the automation systems, broadcast signal chain, and entire IT infrastructure.  In past years, David has filled in for both the AV Operations Manager and Academic Systems Manager, so he has a broad understanding of the department systems.
Mike McHugh – Academic Systems Manager/Multimedia Specialist
Mike supports the Multimedia Classrooms, general AV equipment, campus video production systems, the Cable television and satellite equipment and a number of proprietary software applications like the ID card system.  Mike programmed and maintains the Crestron touch panel user interface used in the classrooms and some of our larger venues.  He has passed his Certified Technology Specialist exam offered by ICIA and is a certified Crestron Programmer.
Kim Snyder- AV Desk Manager
Kim manages the checkout services and AV Desk during the school year.  Kim also oversees the process of providing CD, DVD and VHS duplication as well as manages a team of student assistants to make sure all requests are processed in a timely fashion.  Kim is our first point of contact when inquiring about campus services or calling to report a classroom equipment malfunction.  With many years of experience in customer service environments, Kim brings a vibrant energy to what is often the "hub" of activity in our office.