ISGA Publishes Baptism Study Guide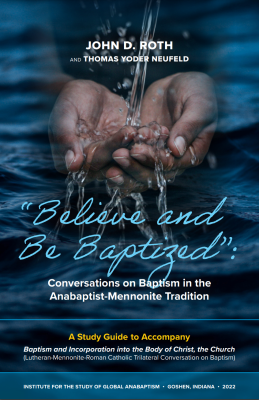 Historically, Catholics, Protestants, and Anabaptists have strongly disagreed about the meaning and method of baptism, even to the point of violence. Could these diverse Christian groups find common ground today or at the least, find ways to articulate and respect their differences? The Lutheran-Mennonite-Roman Catholic Trilateral Conversation on Baptism worked at exactly these questions. From 2012 to 2017, representatives from each of these three traditions met for dialogue, articulating the results of their conversations in the document "Baptism and Incorporation into the Body of Christ, the Church" (available in multiple languages online: https://mwc-cmm.org/resources/baptism-and-incorporation-body-christ-church). Now the ISGA has published a study guide to accompany churches in studying the fruits of the Trilateral Dialogues and related pastoral questions. This important resource is available to churches in North America.
Following the publication of the results emerging from the Trilateral Dialogues in 2020, church leaders identified a need to make this work accessible to Anabaptist-Mennonite congregations and lay leaders, as well as to foster ecumenical conversations about baptism at all levels of church participation. Upon receiving a generous Teacher-Scholar Grant from the Calvin Institute of Christian Worship, previous ISGA Director John D. Roth began to facilitate seminars among various groups of Anabaptist-Mennonite leaders.
A first seminar was an online global gathering that functioned as the annual Mennonite World Conference event "Renewal 2021." This presentation, titled "Believe and Be Baptized: A Global Conversation about Baptism," featured two webinars by John D. Roth and Tom Yoder Neufeld, each containing a presentation and time for questions and conversation. Around 200 people from 30 countries participated in these webinars. They are now available to watch online (https://mwc-cmm.org/resources/renewal-2021-webinars).
Over the last year, Roth facilitated four in-person seminars with Mennonite conferences in the United States. The seminars focused on the Anabaptist history of baptism and current ecumenical conversations. Following Roth's presentation in the seminars, a local Catholic and Lutheran priest, pastor, or theologian was invited to respond. These workshops also featured open dialogue and questions throughout the day. Participants received a copy of the January 2021 special issue of the Mennonite Quarterly Review which contains the whole "Baptism and Incorporation…" document, along with written responses.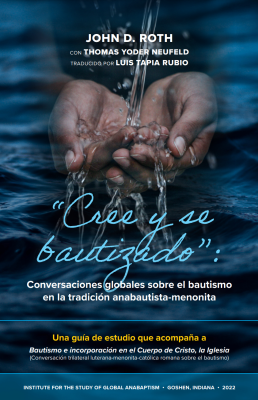 Based on these collaborations and using additional material prepared by Yoder Neufeld, Roth created the newly published study guide to accompany the "Baptism and Incorporation…" document. The "'Believe and Be Baptized': Conversations on Baptism in the Anabaptist-Mennonite Tradition" booklet offers accessible descriptions of the histories of baptism, along with explanations of the significance of baptism in different traditions. Each of the eight short chapters includes a helpful summary of material, historical and contextual information, questions for reflection and testing, and a prayer. Congregations will find this publication to be a valuable resource and opportunity for theological reflection and ecumenical dialogue. The study guide is also available in Spanish for use by Spanish-speaking congregations, thanks to ISGA Research Associate Luis Tapia Rubio's translation.
The booklet was intended to be used as a series in Sunday school classes or small groups, but could also be adapted for use in other church settings. Roth writes, "Although groups in the Anabaptist-Mennonite tradition have sometimes had a reputation for being suspicious about liturgy and rituals – we are, in fact, deeply shaped by our worship practices [especially essential practices like baptism]… I also hope that the booklet can help modern Mennonites – many of whom have grown squeamish about the language of 'conversion' and 'moments of decision' – find ways to incorporate invitations to faith (and baptism) more naturally into the worship life of the congregation."
Both English and Spanish translations are available in printed and PDF form. Thanks to the grant from the Calvin Institute, free printed copies of the study guide will be made available to MCUSA conferences and church partners for distribution to congregations. It will also be available to order on the ISGA website for congregational study. Both the English and Spanish version will be available in PDF form online for free download. Order and download information is available at the following link: https://www.goshen.edu/isga/publications/. The ISGA is excited to offer this resource to enliven the theological, liturgical, and ecumenical discourse in churches across North America.