ISGA News and Project Updates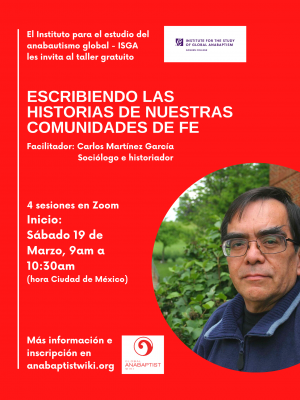 Spanish Workshops on Writing Congregational Histories
On Saturday, March 19, 2022, Carlos Martínez—a Mennonite journalist, historian, and pastor in Mexico City—hosted the first of four Spanish-language workshops designed to encourage participants to take an active role in preserving sources relevant to the history of their congregations and to reflect on how they can tell the history of their congregations in creative and relevant ways. Watch for a fuller report on these workshops in an upcoming issue of Rhizome.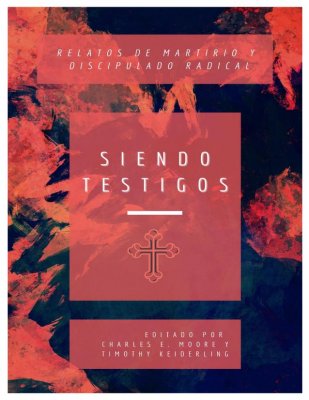 Spanish Translation of Bearing Witness Finished
Initiated by the ISGA in 2012, The Bearing Witness Stories Project collected modern day stories of costly discipleship from Anabaptist churches around the world. In 2016, a collection of these stories was published in the book Bearing Witness: Stories of Martyrdom and Costly Discipleship edited by Charles E. Moore and Timothy Keiderling. Recently, Rut Correa, a Paraguayan Anabaptist translator, finished a translation of this book into Spanish. This translation was edited into a digital book and is now available through the Biblioteca Digital Anabautista (BiDA)!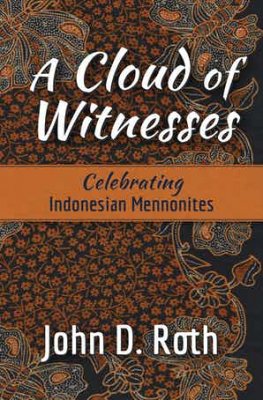 Indonesia Book Gifted to all MCUSA Churches
In October 2021, the ISGA sponsored the distribution of a free copy of John D. Roth's A Cloud of Witnesses: Celebrating Indonesian Mennonites to all churches who are part of Mennonite Church USA (MCUSA). Roth wrote this book as an accessible window into Indonesian Mennonite history and a travel guide for those interested in attending the Mennonite World Conference global assembly in Indonesia this summer.  We are deeply grateful for a grant from the Oak Grove Mennonite Church (Smithville, OH) and the contributions of ISGA supporters that made this possible.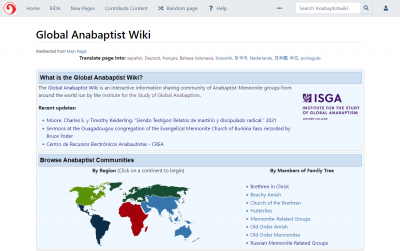 Updates to the Global Anabaptist Wiki
In the last year, the ISGA has made several exciting changes to the Global Anabaptist Wiki (GAW) to make the site more visually appealing and user-friendly. The entire site has a new visual design format that has a more contemporary feel. Additionally, we've redesigned the home page to more clearly show the various parts of the site, along with highlights of newly-added pages.  Anyone is welcome to contribute content on the GAW website—read our updated instructions for sharing your material on the "Contribute Content" page. Check out the amazing new design of the Global Anabaptist Wiki here: www.anabaptistwiki.org!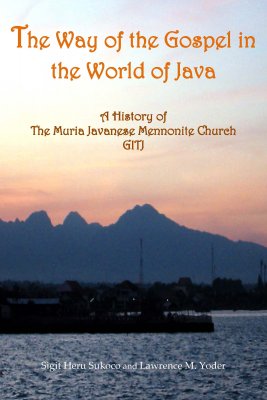 ISGA Purchase and Order Webpage Ready
The ISGA has created a new Purchase Order page where you can buy materials. Current publications that are available to purchase are The Way of the Gospel in the World of Java: A History of the Muria Javanese Mennonite Church (GITJ) by Sigit Heru Sukoco and Lawrence M. Yoder and Life Together in the Spirit: A Radical Spirituality for the Twenty-First Century by John Driver. Visit our site to make an order! https://www.goshen.edu/isga/purchase/