ISGA Seeks Input for Collaborative 2020 Anabaptist Storytelling Project
The Institute for the Study of Global Anabaptism (ISGA) at Goshen College, along with 15 other Anabaptist-Mennonite organizations, is calling on Anabaptist-Mennonite groups to share their experiences during the remarkable historical, biological and social events of 2020 as part of Anabaptist History Today (AHT), a groundbreaking collaborative storytelling project.
Created by Mennonite Church USA (MC USA) Archives and Lancaster Mennonite Historical Society, AHT is the first large-scale, collaborative digital project of its kind in the Anabaptist community.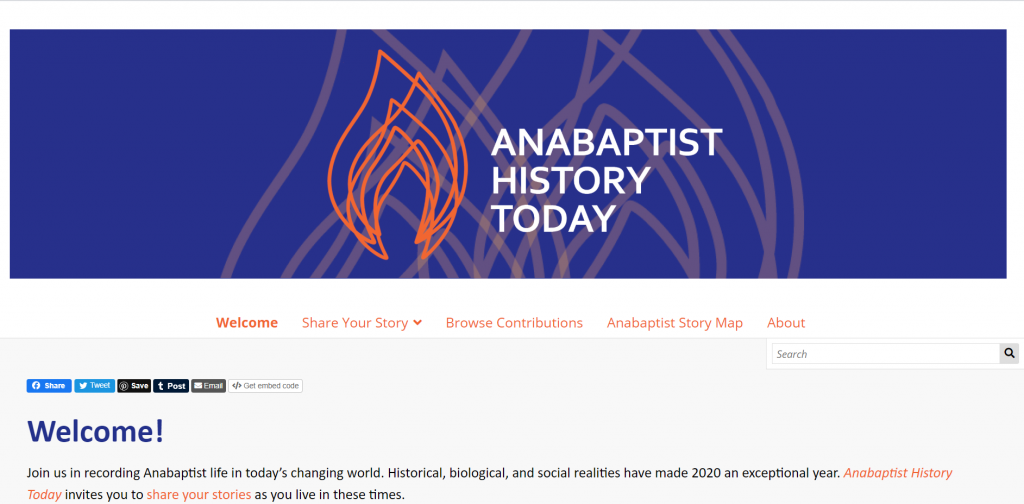 "We are living through an unusual moment in world history—marked by a global pandemic, a climate crisis, intense conversations about race, economic uncertainty, and political division," said John D. Roth, director of the ISGA. "Someday our grandchildren will look back on the events of 2020 and want to know more. This project will help provide sources for interpreting our times from diverse perspectives in the global Anabaptist-Mennonite community."
The ISGA invites individuals, congregations, schools and organizations to tell their stories of living during these changing times. Contributors may share their experiences through a variety of media, including videos, audio recordings, photos, journal entries, artwork, poetry and personal reflections. An online form guides contributors through the process.
To learn more about the AHT project, visit https://aht.libraryhost.com/s/archive/page/Welcome.
The Institute for the Study of Global Anabaptism is an initiative of the Mennonite Historical Library at Goshen (IN) College, that fosters academic research specifically oriented to the global Anabaptist-Mennonite church. In particular, the ISGA seeks to help North American Mennonites better understand the nature of the global church and nurture a closer sense of fellowship among Anabaptist-Mennonites around the world.