Visiting Scholars Explore Mennonite Missions in the Chaco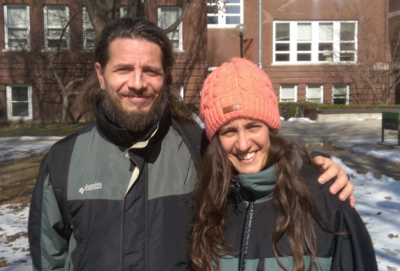 Augustina Altman and Alejandro López, two anthropologists from the University of Buenos Aires, were present on the Goshen College campus during the month of February to continue their research into Mennonite missions in the Chaco region of Argentina. Altman and López drew heavily on the resources of the Mennonite Historical Library and the Mennonite Church USA archives in Elkhart during their five-week research stint in Goshen. They also conducted interviews with former mission workers in the area. Their academic interest is in the role of evangelical missions in indigenous Argentinian communities. The story of Mennonites in the Chaco has provided a rich context to examine these interactions.
Altman and López's research is unique in a number of ways. First, it explores the initial arrival of Mennonites in Argentina and the very beginning of the mission in the Chaco – areas of study that have largely been unexplored. Second, their research examines not only the effect of Mennonite missions in the Chaco, but also how the missionary experience influenced the North American church. This has led to a particular interest in the stories of single women who served in the mission as well as accounts of missionary children as they navigated the complexities of their national and ecclesial identities.
Mennonites in the Chaco conducted the first anthropological work that preserved some of the initial records of the history and culture of the Toba and other indigenous people. Their familiarity with the these communities enabled them to facilitate the translation of biblical texts and assist in communication between indigenous communities and the Argentine government. However, the turn from a focus on planting Mennonite churches to accompanying the growth of indigenous churches raises questions about how the Mennonite experience with indigenous people shaped the "sending" church and its understanding of mission. "We want to see how these missions changed the way people approach Christianity in the USA."
Altman and López's research is an invaluable exploration into these questions, and the ISGA is pleased to assist in this study with funding from the Jon and Rhoda Mast family and the Schafer-Friesen Research Fund. Through these resources and support, the Institute hopes that the work of Altman and López will serve the indigenous people of the Chaco as well as the global Anabaptist community.