Online Library Serves Latin American Seminaries

The Institute for the Study of Global Anabaptism and Anabaptist Mennonite Biblical Seminary (AMBS) have collaborated in the creation of the Biblioteca Digital Anabautista (BiDA), a digital library of Anabaptist theological resources in Spanish found at biblioana.org.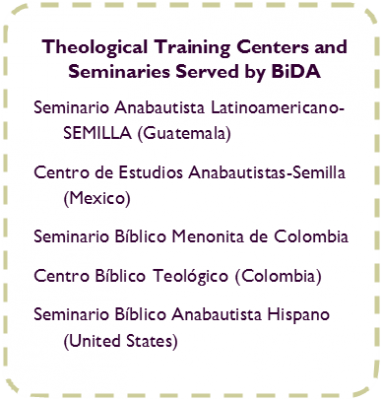 Hosted by AnabaptistWiki.org, the library supports a variety of Spanish-speaking theological training centers and seminaries collaborating with Mennonite Mission Network to establish online study platforms for their students.
As these institutions experiment with online courses, it will be important to have academic materials in digital formats that can be easily accessed by students, no matter their geographical location.
"I am sure that [BiDA] will contribute to strengthening and expanding the biblical and theological education programs of our institutions," said Willy Hugo Pérez, dean of the Latin American Anabaptist Seminary (SEMILLA).
In cooperation with SEMILLA and the Seminario Bíblico Anabautista Hispano, AMBS and the ISGA will facilitate the digitization of materials through Internet Archive, a non-profit group that converts printed materials into a professional digital format.
Initially AMBS and the ISGA will focus on digitizing material currently housed at the Mennonite Historical Library (Goshen College) and AMBS, particularly the writings of John Driver. SEMILLA has also approved the digitization of all relevant material published by SEMILLA-CLARA, the primary publisher of Anabaptist materials in Latin America.
Over time BiDA hopes to expand its offerings to include resources on Anabaptism, context analysis, Biblical studies, church history, Christian ministries, peace and justice, and theology. The library will also resource other Anabaptist initiatives in Latin America, such as Sister Care workshops.