Graduate Projects from 2009 – 2010
What is the reason for population decline in Field Sparrows and Yellow Warbers?

– Jennifer Amstutz
What are the population trends (survivorship, productivity, and population) of field sparrows and yellow warblers at Merry Lea compared to populations at regional banding stations with similar ecosystems? To answer this question, Jennifer analyzed data collected from the MAPS banding stations for field sparrows (Spizella pusilla ) and yellow warblers (Dendroica petechia), two common species at Merry Lea, that appear to be in decline on the eastern coast. Data was also collected from other regional MAPS banding sites with similar ecosystems and compared to see if there has been a change within the past seven years in the area. Jennifer developed a curriculum for middle school-aged students that integrated mathematical concepts and bird ecology.
Are religious leaders knowledgeable about environmental justice issues that affect the community in which they pastor?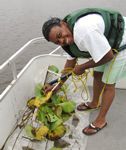 – LaToyia Gilbert
LaToyia conducted a case study in Gary, Indiana in which she surveyed pastors to identify their environmental justice literacy and see how (or if) these issues are addressed in their particular churches. She then used this information to develop community appropriate church curriculum for multiple ages groups.
What schools have successfully integrated green building materials into their curricula, and what factors have led to their success?

– Hannah Miller
Hannah surveyed students and teachers who are learning and teaching in "green buildings" to evaluate their attitudes and behaviors. She also surveyed teachers to determine how they were making use of the "green buildings" for student learning. Using this information, Hannah developed a curriculum for the LEED certified buildings at Merry Lea and another for schools that have green buildings. This curriculum focused on using existing grounds and buildings to develop sustainable practices within an educational community.
Creation Care in Youth Group Programs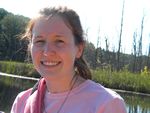 – Maddie King
Maddie investigated the connection between local youth group programs and the environment. She surveyed local youth group students and leaders to examine their attitudes toward environmental issues and also how these issues were addressed in the youth programs. Maddie then developed a curriculum for high school students on creation care that could be used in a youth group or other church youth programs.
Interpretation of Tallgrass Prairies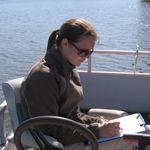 – Laell Schulte
Laell investigated the range of prairie curriculum in the Midwest at nature centers, schools, and state agencies. She also surveyed teachers to determine how they would make use of curriculum if it were available. She then developed an educational program for K-12 to understand and appreciate tall grass prairies. She adapted one of her curriculum to be used in the specific setting of Merry Lea.
Monitoring Wetlands through Citizen Science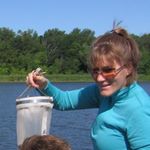 – Kathy Shantz
The goal of this project was to determine criteria for measuring the health of northern Indiana wetlands using citizen science. "Citizen science" is the practice of accessing field assistants through volunteers. Kathy did a meta study of the literature on citizen science to see if the data collected can be scientifically valid and also determine the best protocol for using citizen science at Merry Lea to successfully measure the health of wetlands. This project was focused on developing monitoring criteria that can effectively use volunteers to monitor the health of wetlands. Kathy also developed curriculum that used students visiting on a wetland field trip as citizen scientists to collect wetland data.
What components are effective in an exhibit to increase children's knowledge of spring forest ecosystems?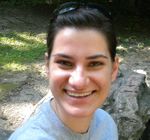 – Bethany Testa-Avila
The goal of the project was to create an easy to use/understand exhibit on spring forest ecosystems. Bethany created an attractive, interactive and engaging exhibit on spring forest ecosystem and investigated the possibility that an artistic, interactive exhibit will increase knowledge in children.