Bahamas Environmental Education
Andros Island is home to the world's third-largest barrier reef and has the unique feature of dropping off into the 6,000-foot deep 'Tongue of the Ocean.' The wall faces east and the deep sunlight penetration allows an incredible array of life.
We work with a partner organization – the Andros Conservancy and Trust — to make connections with local schools and the national park system to contribute to environmental education and conservation efforts on the island.
We explore several ecological systems including brackish inland waters, mangrove lagoons, shallow reef systems, and the western shore national park area – a place that visitors rarely see.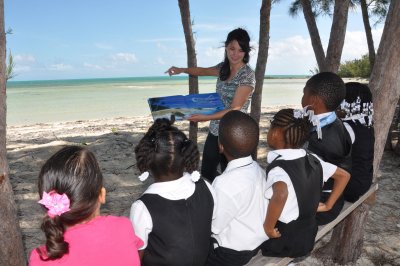 Graduate students will:
Apply their natural history and research skills to learn new ecosystems
Apply principles of environmental education to imagine, design, and deliver curricula through active school programs
Explore leadership and administration challenges that are different from the U.S. model of conservation
See firsthand the implications of climate change on island countries and understand our commitment to carbon offsets: a large and important environmental education issue
Work with Bahamians to design environmental education efforts in a new cultural context
Join us for this unique opportunity!