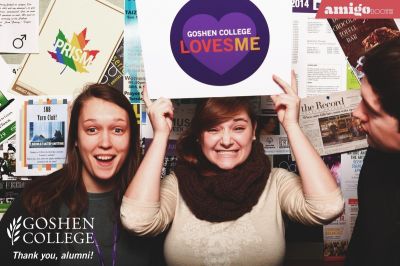 Here at Goshen College, tuition covers only about 65 percent of the actual cost of educating each student. March 6, 2015 represents the approximate point in the fiscal year when revenue from tuition stops covering educational costs.
Who gives money to Goshen College besides students?
A lot of people! Alumni, parents, faculty, staff and people with no other connection to Goshen College but a shared value in the education we provide (we like to call them "friends"). Even corporations and foundations see supporting Goshen College as a valuable investment.
What a great reason to celebrate!
The goal of Tuition Free Day is to raise awareness among Goshen College students that their tuition covers approximately 65 percent of what it actually costs to educate them for one year. Tuition Free Day symbolically marks the approximate point in the year when students' tuition stops paying for their education and the financial support from other means begins. Additionally, we want to celebrate the thousands of alumni and friends of the college who are making an investment in the lives of Goshen College students!
But first…here are the numbers!
$4,174,132 – Amount of money given to Goshen College from alumni and friends in 2013-14.
Who gave in 2013-14?
3,749 Alumni
1,019 Friend households, Businesses, Organizations, Foundations and Churches

629

 Households that gave $1,000 or more to any fund
158 Approximate number of privately funded scholarships awarded
Celebration activities were held in Westlawn Dining Hall and Union from 11 a.m. to 2 p.m. on Friday, March 6, 2015.  Students stopped by to write a thank-you note to a dono, and grab a cookie and a "You Are Loved" button available in many languages.
"Goshen College students are a solid investment!" – GC Alumni and Friends