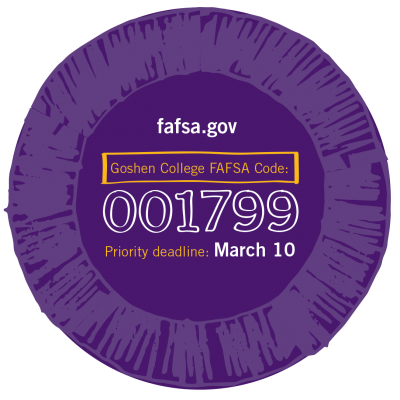 Students must submit a Free Application for Federal Student Aid (FAFSA) each year to be eligible for federal and state student aid. Federal student aid includes Federal Pell Grants, federal student loans and work-study opportunities. In addition, the FAFSA is also used to determine your eligibility for other types of financial aid, such as some Goshen College grants and scholarships.
What are the changes? File beginning Oct. 1 using 2015 income!
To help alleviate some of the pressure families' face, two major changes are being implemented beginning with the 2017-18 FAFSA:
• Submit a FAFSA earlier: All college students will be able to file a 2017–18 FAFSA as early as Oct. 1, 2016, rather than beginning on Jan. 1, 2017. The earlier submission date will be a permanent change, thus allowing students to complete and submit a FAFSA as early as October 1 every year.
• Use earlier income information: Beginning with the 2017–18 FAFSA, all college students will report income information from an earlier tax year. For example, on the 2017–18 FAFSA, students (and parents, as appropriate) will report their 2015 income information, rather than their 2016 income information. Students and parents don't get to choose whether to use 2015 OR 2016 income information.
The following table provides a summary of key dates as we transition to using the early FAFSA submission timeframe and earlier tax information.

Why are there changes?
Previously, you could  complete the FAFSA beginning January 1 for the coming year using income data from the previous year. However, many deadlines for state aid are as early as March (Indiana's is March 10), and for some students, the FAFSA application deadline is not aligned with college admissions application deadlines. This created a major time crunch for applicants. In addition, some applicants were experiencing unavoidable delays in obtaining the income or tax information needed to complete their FAFSA earlier in the year. This was causing some students to miss out on some state and/or institutional aid.
What are the advantages of these changes?
Recent research and the Department of Education's own data suggest that implementing an earlier start date to submit the FAFSA and using earlier income information will benefit students.
Benefits include:
Alignment —

The financial aid application process may be more aligned with the college admission process. Knowing how much financial aid is available earlier can help students make better decisions about their college choice.

Certainty —

Applicants will not need to estimate income or taxes paid. The tax return for the prior

prior

year normally has already been filed and there are no issues with accessing it via IRS data retrieval.

Less pressure —

The October 1 start date will provide more time for students and parents to explore and understand financial aid options, and apply for aid before state and institution deadlines.
How do you apply for financial aid to Goshen College?
Do you have any questions?
Please contact the Financial Aid Office.