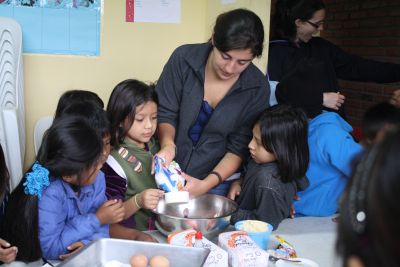 Spend a summer in service and receive a $1,500 scholarship for tuition and a $750 – $1,000 stipend.
The Service Inquiry Program (SIP) enables students at Goshen College to spend three months in service with a church-related service or mission agency. The goal of SIP is to facilitate significant student engagement with service under sponsorship of a church agency and through the tutelage of an on-site mentor. Students are expected to learn from both their active service and from observation of others engaged in service. They are also expected to participate actively in the life of their service unit, including involvement with a local congregation.
Students in SIP will experience:
Direct, meaningful service to others
Exposure to societal inadequacies and injustices
Creative responses to perplexing human problems
Encounters with people from other cultures
Insight into service agency needs and requirements
New relationships with representatives of a church agency
At the end of the service period, agency and site supervisors will each write a report for Goshen College and the student, evaluating the student's performance and the suitability of the program for future interns.
---
"For me, one of the most rewarding parts of my experience was getting to hear and share the stories of mission workers from around the world…My internship at Mission Network was just the beginning of a long and beautiful journey." – Ariel Ropp, SIP 2012. Read more. 
---
Registration Deadlines:
Though we would love to provide placements for all students who apply, we are only able to accept 5-8 applicants per Inquiry Program. There are two deadlines: early-bird (December 1) and final (January 31). Students who complete their applications by the early-bird deadline will be processed (accepted or not accepted) first. Depending on the number of applicants in a given year, the possibility exists that all slots might be filled even before the final deadline. Therefore, it is in the best interest of the student to apply early!
"I think that Open Door will influence my future career choices a lot. It made me understand the importance of working for racial and class justice from the systemic levels…This has reinforced my desire to also be involved in law and policy change in order to serve those society neglects." – Laura Miller, SIP 2015
If you are a student:
The Inquiry Programs have moved to Career Networks so visit the Career Networks Office (Wyse Hall 105) and speak with David Kendall, the SIP administrator.
Let your academic adviser know you would like to participate in the program and inquire about receiving academic credit.
Discuss your service interests with the pastor of your home congregation.
Review the list of previous SIP locations; consider similar placements that might interest you.
Complete the online application form.
If you represent a congregation as a pastor or youth leader:
Call or write to the SIP administrator at Goshen College and nominate an excellent student candidate from your congregation who would benefit from SIP.
If you represent a church agency responsible for administering service programs:
Call or write to the SIP administrator at Goshen College and submit a position description for any student who has applied to participate in the SIP program.
Consider seriously how your agency could host a student as a SIP participant when a candidate names your agency as the preferred agency for a service assignment.
Discuss candidly service options with students who express an interest in serving with your agency.
---
Frequently Asked Questions
How does the program work?
The Service Inquiry Program is designed to be a summer-long service-learning experience for Goshen College students. It calls for full-time involvement for 11 weeks.
Each SIP intern will receive a scholarship of $1,500 to be applied to college expenses during the academic year following the term of service. Ideally, the funds for the scholarship will come from the following sources:
$1,000 from Goshen College Campus Ministries
$500 from the student's home congregation (or equivalent)
The sponsoring agency will also arrange for and provide housing, a food allowance, and a $750 – $1,000 stipend. The student will be responsible for travel expenses to and from the service location.
"This summer has been a huge learning experience for me and has allowed me to gain understanding in both the technical side of non-profit work and in the relationships I built with indigenous and non-indigenous communities." – Naomi Gross, SIP 2015
Who may participate?
The Service Inquiry Program is designed for Goshen College students who have completed two to three years of college. Ideally, candidates for the program should have a cumulative GPA of 3.0. Students from all faith traditions are warmly invited to participate in SIP and may negotiate an assignment with an other-than-Mennonite agency.
May I participate in the Service Inquiry Program at times other than the summer?
Yes – if the SIP Administrator, your academic adviser at Goshen College, and the church agency agree on another 11-week period during the year. However, the program's primary intention is for a summer experience.
---
"I loved my summer at CCHO and I wouldn't have traded it for anything else. I learned some very valuable lessons that I will take with me as I move forward in my college career." – Natalie Graber, SIP 2015