Director of International Education, Associate Academic Dean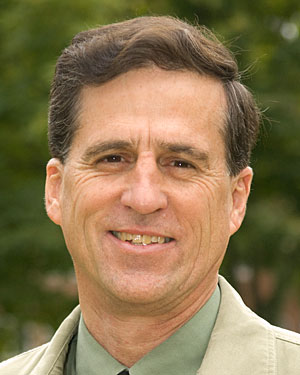 Education
B.A., Goshen College, 1975
M.A., Boston University, 1978
Ph.D., Boston University, 1983
Contact
(574) 535-7346
Administration Building 14E (map)
In the past decade I have been working with all of our study abroad (SST) programs in Africa, Asia, the Caribbean, Central and South America.  I have had the privilege of working with faculty to develop nine new sites.  Each new location presents the challenge of finding a local coordinator, housing for faculty, language teachers, host families and the list goes on.  We are very pleased to offer programs in Cambodia, China, Morocco, Nicaragua, Peru, Senegal and Tanzania.  It has been my great pleasure to work along side partners around the globe to produce excellent programs in international education.
My research and writing have focused primarily on social change in the Old Order Amish communities of northern Indiana.  I have been particularly interested in the strategies that the Amish have adapted to maintain a religious identity in a time of rapid change.  For more than 40 years the shift from an agricultural base to an industrial base of employment has been occurring in the Nappanee area, and in Elkhart and Lagrange Counties in northern Indiana.  Although some aspects of their material culture and community life have changed the Amish have managed to thrive in this transitional period. Although many predicted that industrialization would lead to their demise, their communities have grown tremendously in size and my research and others has demonstrated that there is little evidence that their way of life will disappear in the near future.
More recently, as director of international education, I have begun to examine the impact of study abroad on Goshen College students. I have been collecting data since 2004 on students who have studied in the following countries: Cambodia, China, Dominican Republic, Egypt, Ethiopia, Jamaica, Nicaragua, Peru, Senegal,  and Tanzania.
"Amish." Global Anabaptist Mennonite Encyclopedia Online. http://www.gameo.org/encylopedia/contents/A4574ME.html.  January 2012
"The Study Service Term: An Allignment of a Religious Tradition with an Academic Program" in Transformations at the Edge of the World ed. By Ronald J. Morgan and Cynthia Toms   Smedley. Abilene Christian University Press. 2010
Plain Diversity: Amish Cultures and Identities. with Steven Nolt. John Hopkins University Press. 2007.
An Indiana Patchwork: Old Order Amish in the Modern World. with Steven Nolt.   Indiana University Press, 2005.
"Education and Schooling" in The Amish and the State ed. by Donald Kraybill. Johns Hopkins University Press. 2003  Pp: 87-108.
"Amish Tourism: Visiting Shipshewana is better than going to the Mall", Mennonite Quarterly Review, Vol. LXXVII, No. 1, Jan. 2003, Pp. 109-126.
 "Anabaptist, Mennonite and Amish Families", The International Encyclopedia of  Marriage and Family Relationships, 2nd Edition. ed. by James J. Ponzetti.
Macmillan. 2002.
"The Amish Division: A Review of the Literature."  in Les Amish: origine et particularismes 1693-1993, ed. by Lydie Hege & Christophe Wiebe. Ingersheim, France: Association Francaise d'Histoire Anabaptiste-Mennonite. 1996. Pp. 72-93.
"Lunch Pails and Factories",  in The Amish Struggle with Modernity. ed. by Donald B. Kraybill and Marc A. Olshan. University Press of  New England. 1994. Pp. 165-181.
"The Old Order Amish: To Remain in the Faith or to Leave", Mennonite Quarterly Review, Vol.  LXVIII, No. 3, July 1994  Pp: 378-395.
"Social Change in the Amish Communities of Northern Indiana," in Internal and External Perspectives on Amish and Mennonite Life 4, ed. by James Dow, Werner Enninger and Joachim Raith. University of Essen & Iowa State University. 1994. Pp. 10-20.
"Shooting for 100%: Lessons Learned from Three Cases for Dramatically Increasing Education Abroad Participation," with Elaine Meyer-Lee and Alex Oxuda, The Forum on Education Abroad Annual Meetings in Atlanta, Ga., April 7, 2016
"From First Semester to a Life of Global Engagement" with Bev Lapp, Association of American Colleges and Unversities, Global Learning in College. Ft. Lauderdale, FL, October 9, 2015
Presentation in the Middlebury Public Library Series on Muslim Journeys: Connected Histories, on Amitav Ghosh, In an Antique Land,  December 3, 2014
"Study Abroad and Global Learning Outcomes" panel presentation at the Association of American Colleges and Universities Shared Future Global Learning Forum, Philadephia, Pa., March  20, 2009
"The Indiana Amish," Pediatric Grand Rounds, Indiana University Medical School,   Feb. 18, 2009
"The Amish: A Puzzling Ethnic Minority," Southwest University of Science and Technology, Mianyang, People's Republic of China, Sept. 27, 2007
"Patterns of Diversity Among Indiana's Amish,"  The Amish in America: New Identities and Diversities Conference, Elizabethtown College, Elizabethtown, Pa., June 2007
"School Shootings, the Amish, and Education: What Kinds of Environments Develop Kindness and a Willingness to Forgive?", with Shirley Showalter, Uncovering the Heart of Higher Education, San Francisco, Feb. 24, 2007
"Amish Youth in the World: Law Enforcement," with Steven Nolt at Amish Youth Vision Project Fall Conference, Shipshewana, In., Oct..12-13, 2006
 "Overview of Amish Culture," with Steven Nolt at Amish Youth & The Law Conference, Shipshewana, In., April 20, 2005
 "Amish Tourism: Visiting Shipshewana is better than going to the Mall" Amish, Old Orders, and the Media Conference, Elizabethtown College, Elizabethtown, Pa. June 15, 2001
 "SST: A Paradigm Shift at Goshen College", The Goshen College Study-Service Term Abroad, A Network Exchange Conference of the Lilly Fellows Program. Goshen College, Oct. 26, 2000
 "International Service-Learning as Focal Point of Curriculum", with Stuart Showalter, Strengthening Service-Learning at Faith-Based Colleges, Messiah College, Grantham, PA. June 3, 2000
"Community Organization, Work and Social Change", Extension Education in Amish  and Other Anabaptist Communities, Michigan State, Ohio State and Purdue University, April 22, 1998, Shipshewana, Indiana
"What Works Best When Teaching About Africa?", Bringing Africa into the College Classroom,  Indiana Consortium for International Programs/Indiana University African Studies Program. Abe Martin Lodge, Brown Co. State Park, Oct. 25, 1997
"American Culture", Univ. of Abidjan, Ivory Coast, West Africa, Jan. 27, 1997
"The Amish Division: A Review of the Literature", Colloque international: 300e anniversaire du mouvement amish 1693-1993, Sainte-Marie-aux-Mines, France. Aug. 19, 1993
"Education and Schooling" and "Defection in the Elkhart-Lagrange Settlement", Three Hundred Years of Persistance and Change, Amish Society 1693-1993, Elizabethtown College, Elizabethtown, Pa. July 22-25, 1993
2010-                Director: Study Service Term in Cairo, Egypt
2003- present   Director of International Education
2003- present   Associate Academic Dean
1999-2000        Research Leave, Amish and Old Order Groups in Indiana
1994- present   Professor of Sociology, Goshen College
1997                 Director: Study Service Term in Abidjan, Cote d'Ivoire
1993-1994        Visiting Scholar, Univ. of Notre Dame
1993-1994        Visiting Professor, Univ. of Nairobi, Kenya
1993-19994      Director: Study Service Term in Abidjan, Cote d'Ivoire
1991-1993        Chair, Dept. of Sociology
1986-1991        Associate Prof. of Sociology
1987-1988        Director of Study Service Terms in Pointe a Pitre, Guadeloupe
1983-1985        Assistant Professor of Sociology