Associate Professor of Communication, GCTV Advisor
Education
BS, Indiana Wesleyan University, 2003
MA, Ball State University, 2013
MA Thesis/Creative Project (Completed 2013): "CUSTOMER EXPECTATION & THE TECHNOLOGY/IMAGE EXPECTANCY GAP THEORY: CREATING A PUBLIC RELATIONS PLAN FOR AN EDUCATIONAL VIDEO PRODUCTION COMPANY"
Breaking Down Barriers: The Journeys of the Apostle Paul – The Apostle Paul's amazing story is surpassed only by the legacy of Christian faith he left behind. In "Breaking Down The B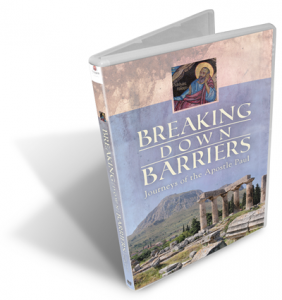 arriers: The Journeys of the Apostle Paul," you'll follow the path of biblical history through Greece and Italy and explore how Paul overcame religious, cultural, and physical obstacles as a leader of the first generation of Christians. Join us in visiting the ancient cities of Philippi, Corinth, Thessaloniki, Delphi, Athens, and Rome to see how Paul dedicated his life to advancing the gospel of Christ to a world in need of his message. The documentary reflects the video handiwork of Seth Conley and Kyle Hufford, communication professors, and more than a dozen students, including nine who traveled to Greece and Rome for a May Term class in 2012. The documentary team visited Thessaloniki, Philippi, Berea, Athens, Corinth and Rome, among other locations. The group traveled with more than 128 pounds of equipment, including three cameras.
FiveCore Media –   Professional video company initiative which provides hands-on training for Goshen College communication students while producing professional-quality videos for FiveCore clients.
COMM. 195 – TV Reporting & Videography

 Focuses on television news reporting, basic news videography and newscast studio operations.

COMM. 212 – Broadcast Media Production I

An introduction to broadcast media production with an emphasis on audio and video production. The primary goal of the course is the development of the necessary skills and understandings needed to create effective broadcast media messages.

COMM. 312 – Broadcast Media Production II

Advanced study of broadcast media production with an emphasis on audio and video production.

COMM. 260 – Broadcast Writing

Students  study the principles, forms and techniques of writing for broadcast media.

COMM 314 Broadcast Media Production III

The primary focus of this course is on advanced integration of audio and video elements in program-length productions.

COMM. 386 – Film

COMM. 202 – Oral Communication

Practical experience in a variety of activities including interpersonal communication, public speaking, small-group communication, persuasion and nonverbal communication.
2009

Nominated for Indiana Broadcasters Association (IBA) Spectrum Award for Feature/Use of Medium as an Anchor/Reporter at WLFI News Channel 18.

2008

Won 2nd Place for Best Enterprise Story, Indiana Associated Press (AP) as an Anchor/Reporter at WLFI News Channel 18.

1999

1st place in State Competition in Broadcasting Category for the Indiana High School Forensic Association.
Memberships & Associations
• Current Member of Broadcast Education Association
• Member of Schuyler Ave. Wesleyan Church
Professional Training
2010, 2011, 2012

Broadcast Education Association Conference, Las Vegas, NV.

2010, 2011

National Association of Broadcasters Conference Show Floor, Las Vegas, NV.

2008

Trained in iNews Professional Newsroom Software.

2006

Muscular Dystrophy Association (MDA) National Emcee Training, Las Vegas, NV.
2009-Present
Associate Professor of Communication, Goshen College
FiveCore Media Executive Director
2013 – Present
Part Time News Anchor, WNDU NewsCenter 16
2006-2009
Morning News Anchor and Reporter, WLFI TV-18 (CBS)
2004-2006
Community Program Coordinator, WIWU-TV51, Indiana Wesleyan University
2002-2004
Associate Page Layout Tech, Wiley and Sons Publishing