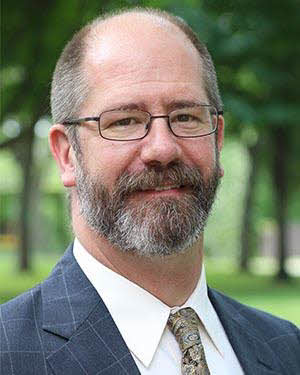 (574) 535-7504

Administration Building 13A (

Map

)
Appointed July 1, 2013 to lead the newly formed Office of Graduate and Continuing Studies (OGCS)
Serves as Director of the Master of Arts in Intercultural Leadership (MAIL) program and teaches in that program

Consults with departments and faculty on Curriculum and Assessment
Dr. Ross Peterson-Veatch is originally from Oklahoma, but has lived in Indiana since 1984.  He began his college teaching career in 1987 as a Spanish instructor and has been in the classroom at various levels ever since.  He has taught many different subjects, including Spanish, Economics, Folklore, and interdisciplinary social science courses for first-year college students.  He currently teaches in the Master of Arts in Intercultural Leadership (MAIL) Program at GC.
Dr. Peterson-Veatch's academic background is in Folklore, Spanish language, and Colonial Latin American Literature, and he serves Goshen College as Associate Vice President for Academic Affairs.  He holds master's and doctorate degrees in folklore from Indiana University, Bloomington.
MAIL Courses
IIE 500 Program Orientation and Technology Training
IIE505 Self-Development for Intercultural Leaders
IIE 690 Capstone Project: Theory and Methods
Historic Courses
SOC 100 Racial and Cultural Identities – Colloquium
FOLK F360 Indiana Folklore
LAMP S104 Local Economies and Individual Choices
SPAN S266 Spanish Reading II
SPAN S250 Intermediate Spanish Language II
SPAN S216 Spanish Reading I
SPAN S200 Intermediate Spanish Language I
SPAN S150 Beginning Spanish Language II
SPAN S100 Beginning Spanish Language I
SPAN 13 Intermediate Spanish Language
SPAN 12 Beginning Spanish Language II
SPAN 11 Beginning Spanish Language I
Ross Peterson-Veatch. "The Backward Design Process of Curriculum Development," in The Resource Handbook for Academic Deans, 3rd Edition, edited by Laura Behling, (San Francisco, CA: Jossey-Bass, 2014), 175-182.
Adams, Susan and Ross Peterson-Veatch.  "'Critical Friendship' and Sustainable Change: Creating Liminal Spaces to Experience Discomfort Together," in Disrupting Pedagogies and Teaching the Knowledge Society: Countering Conservative Norms with Creative Approaches. edited by Julie Faulkner. (Hershey, PA: Information Science Reference, an imprint of IGI Global, 2011), 32-45.
King, Catherine, and Amy Gillan, Michelle Pittard, Ross Peterson-Veatch. "Creating and Supporting Mixed-Level Inquiry Communities," Mountainrise, The international Journal of the Scholarship of Teaching and Learning. 6:1 ( 2010), http://mountainrise.wcu.edu/index.php/MtnRise/issue/view/2
Metzler, Eric and Ross Peterson-Veatch. "The Exchange Economy and Student Evaluations: Re-envisioning Student Feedback for Accountability, Authenticity, and Transparency," In The Knowledge Economy Academic and the Commodification of Higher Education. edited by Tom Giberson and Greg Giberson. (Cresskill, NJ: Hampton Press, 2009), 129-139.