Sustainable Food Systems Educator & Farm Manager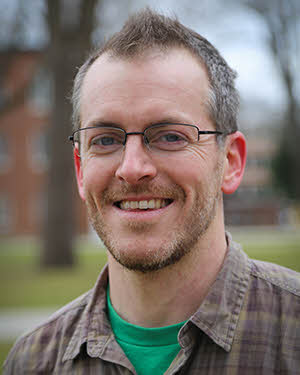 Education
B.A. in Geography, Calvin College (2005)
M.S. in Plant and Soil Science, University of Vermont (2012)
Contact
BIOL 220 – Properties and Management of Soils.  Jon instructs this course, which takes place at Merry Lea Environmental Learning Center as part of the Agroecology Summer Intensive.  A required course for the Sustainable Food Systems major and the Agroecology minor, this course covers foundational soil properties and soils management topics with a focus on hands-on field experience.  Topics include soil formation, exploring soil types of northern Indiana, basic soil chemistry, cover cropping and nutrient cycling, soil testing, soil surveys and classification systems, tillage and cultivation techniques, irrigation and soil water management, and environmental contamination of soils.  Emphasis is placed on regenerative practices for managing soils.
This course typically falls within the month of June each year.  In recent years, the course was taught in cooperation with significant involvement from Dr. Larry Yoder and Bill Minter.
BIOL 316 – Vegetable Crops.  Jon taught the Vegetable Crops in 2016 and in 2015.  This course is one course in the Agroecology Summer Intensive which takes place at the Merry Lea Environmental Learning Center of Goshen College. Typically, this course falls within the month of June and is approximately four and a half weeks long.  Topics covered include vegetable botanical families and plant origins, vegetable nutrition and cultural uses, tools and equipment, weeds management in cropping systems, disease and pest management, harvesting and storage techniques, third-party farm certifications, food safety, and more.  This course title will be altered slightly in 2018 for the Agroecology Summer Intensive and will remain a required course for the Sustainable Food Systems major.
Jon gives lectures in the other Agroecology Summer Intensive courses, including Agroecology (BIOL 318) and Small Farm Management and Produce Marketing (BIOL 230).  He has also been asked to give lectures in Roots of the Environmental Crisis (BIOL 2017) on campus.
At present, Jon helps lead the student practicum component of the Agroecology Summer Intensive, which gives students hands-on experience with small farm practices and equipment throughout their summer experience at Merry Lea Sustainable Farm.
During fall and spring semesters, Jon works with colleagues to organize potlucks on campus for students to fellowship and discuss food and agriculture-related issues.
At present, Jon's research interests are in:
diversified agricultural systems (including permaculture)
raising heirloom and Native American seed varieties
cover cropping for agronomic and ecosystem services benefits
mushroom production as an alternative protein source and agroforestry product
intersections of ecological awareness, spiritual formation, social justice issues, and community health
food councils and community-based solutions to food challenges
Zirkle J. and J. Pontius, 2017.  Enacting a Liturgy of Land: from Lament to Reconciliation.  A workshop given at the Rooted & Grounded: A Conference on Land and Christian Discipleship.  Anabaptist Mennonite Biblical Seminary (April 20-22, 2017).
Keeley K. and J. Zirkle, 2015.  Restoration Agriculture.  A workshop session focused on using diverse agroforestry crops in farming systems that mimic savanna ecosystems with a case study example from Goshen College's Merry Lea Environmental Learning Center.  2015 Indiana Small Farm Conference (Danville, IN).
Since 2012, Jon has been an active attendee at Assembly Mennonite Church in Goshen and became a member in 2013.  Beginning in 2014, Jon was a youth leader with high school youth MYF (Mennonite Youth Fellowship) until August 2016.  More recently he has been part his church's prayer group and also participates in a weekly small group which meets for sharing time, singing, Bible study, and food.
Jon enjoys interacting with college students and recent college graduates who come to Assembly Mennonite. He encourages college students to explore churches in the area as a way to find community, support, and to deepen their spiritual lives.
Before working for Goshen College's Merry Lea Environmental Learning Center, Jon worked for Michigan State University Extension in southwest Michigan as Program Instructor in field crop production.
Some of his other work experience includes:
Graduate research while at University of Vermont – organic small grains production and crop management (2009-2012)
Office of the Lt. Governor, Illinois – Paul Simon Lt. Governor Fellowship (2007-2009), working with schools and colleges to advance sustainability initiatives
Lab assistant, ecology lab under Miquel Gonzalez-Meler, University of Illinois at Chicago (2006-2007)
Chicago Botanic Gardens – Primera La Ciencia summer program (summer 2006, Chicago)
Jon has been involved in the Elkhart County Food Council, which began after a pilot project called the Elkhart County Foodshed Initiative selected Elkhart County for a food system analysis.  Jon's predecessor Dale Hess had been a member of the founding leaders. Jon has since worked with other members to help develop a food council leadership structure and remains an active participant in the Food Production & Economics subgroup.  Goshen College students are welcome to intern with the ECFC.
In partnership with three nearby farmers, Jon has also been an active participant in a North Central SARE grant project (FRG17-037), where farmers will partner with Merry Lea Environmental Learning Center of Goshen College to process sorghum into syrup, cooperatively market, and sponsor farmer workshops.  Investigating the Possibilities of Cooperative Sorghum Syrup Production and Marketing for Strengthening Small Farm Sustainability in Northern Indiana.