Professor of Sociology, SST- Senegal: MA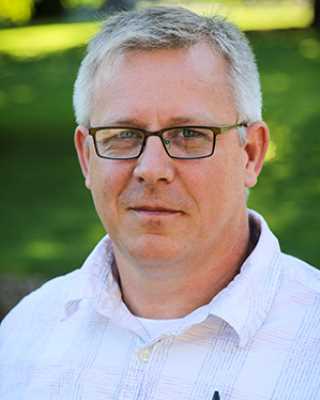 Education
B.A., Goshen College, 1997
M.S., University of Missouri Columbia, 2001
Ph.D., University of Missouri Columbia, 2007
Contact
(574) 535-7683
Wyse Hall 310 (map)
The Mennonite Sociology Collaborative
I currently serve as the Program Coordinator for the Mennonite Sociology Collaborative. The MSC combines the resources and opportunities of the sociology programs at Bluffton University, Eastern Mennonite University, and Goshen College in an innovative and flexible course of study for traditional undergraduates that leads to a Bachelors of Arts in Sociology. The MSC offers two-to-four hybrid courses a year using predominantly synchronous (live video conferencing) and minimally asynchronous (online learning that is not live) online technology.
Demographic Transitions at Goshen College
Over the past 15 years Goshen College has seen significant change in the demographics of its student body. I am currently working on a project to document the organizational and cultural work that has been done surrounding this transition.
SOC 200 Principles of Sociology
An introduction to the principles and methods used in the study of human society. Includes a survey of topics in social problems, social inequalities, social identity, human ecology and social change.
SOC 210 Sociology of the Family
A study of the role of family in society and culture. Includes a comparative history of the family institution as well as an examination of social trends affecting mate selection, marriage, family roles and family relationships in contemporary society and culture.
SOC 310 Social Theory (COL)
A comparative study of prominent social theorists of the past 200 years with specific attention to their interpretations of social changes related to modernity, globalization, and identity. Includes an examination of the purpose of social theory particularly as it relates to sociological inquiry. Prerequisite: Soc 200 or consent of instructor.
SOC 315 Religion in Culture and Society
An analysis of the social, cultural and political contexts that profoundly affect religious institutions and expressions, and upon which religion has an influence. Course includes such topics as meaning and belonging, modern individualism, dynamics of religious collectives and the impact of religion on social change.
SOC 391 Methods of Social Research
An introduction to the principles and methods of social research in sociology and social work, including the project design, data analysis, and interpretation for both quantitative and qualitative research projects.
SOC 392 Junior Seminar in Social Research (COL)
Philosophy of science in sociology; synthesis of theory and method; choice of a topic and initial literature review, research design and piloting of any instruments in preparation for Soc 409 Field Experience and Soc 410 Senior Seminar. To be taken Spring semester of the junior year. Prerequisites: Soc 310, 391.
SOC 410 Senior Seminar
Students complete their thesis research and writing, culminating in a formal presentation of their work. Questions related to Sociology as a profession will also be addressed. Prerequisite: Soc 392.
Core 300: Global Issues
Designed as a capstone for students completing On-campus Intercultural Study, and as an elective option for students who return from Study Service Term, this course guides students in reflecting on their cross-cultural experiences and in considering how these influence personal relationships, decision and goals. Rooted in the study of a particular theme such as global poverty or religion in world cultures, students will analyze their own cultures and the cultures around them via reflective writing, readings, guided discussions and service learning ventures. Prerequisite: 9 credit hours of On-campus Alternate Program, completed Study Service Term, or consent of instructor.
SOC 201 Good Eating
How are human eating practices connected to ethical beliefs, economic behavior, and habitat? This course explores both the natural and social histories of foods and diets and the ways that our food choices connect us to multiple systems of life. A Social World course in the Goshen Core.
SOC 230 Ethnography and Culture
An introduction to ethnographic methods and cultural analysis. The course will operate on two interrelated dimensions, one focused on the history of ethnography and cultural analysis in anthropology and sociology, the other focused on practical techniques of qualitative research, including specific skills in qualitative research design, methods, and data analysis. The course includes an ethnographic research project.
SOC 320 Environmental Sociology
A survey of environmental sociology including theories of human-environment interaction, a history of various environmental movements and other developments with significant ecological implications, cross cultural comparisons of human-environment relations, and questions of justice with relation to who decides about resource use and who suffers the effects of environmental degradation.
SOC 336 Latin American Societies & Cultures
Current developments are examined within the context of a general survey of Latin-American societies and cultures. The course aims to provide: 1) a basic knowledge of Central and South-American geography and social structure, 2) an acquaintance with alternative ways of interpreting information about and experiential knowledge of Latin-American life, and 3) an opportunity to explore themes of oppression and liberation as these pertain to Latin-American thought and experience.
SOC 340 African Societies and Cultures
A study of the current development and modernization of the nations and peoples of Sub-Sahara Africa. After brief attention to the geographic, historical and anthropological factors underlying Africa's development, the major focus will be on the current social and political forces that are shaping the developing nations.
"Constructing Fidelity in Online Education: Considering Belonging in Mennonite Institutions." Presented at the Mennonite Faculty Conference, Newton, 2016.
"Encountering Sustainability: Raw Milk and Cultural Movements." Guest Lecture Loyola University, Department of Sociology. Chicago, October 10, 2008.
Lind, David H. 2017. "Reflecting on SST Storytelling." SST Resource Book, edited by Duane Stoltzfus and Grace Weaver (PinchPenny Press).
Hendrickson, Mary, William Heffernan, David Lind and Elizabeth Barham. 2008. "Contractual Integration in Agriculture: Is There a Bright Side for the Agriculture of the Middle?" Refereed book chapter contributed to Agriculture of the Middle, edited by Tom Lyson and Rick Welsh (MIT Press).
Barham, Elizabeth, David Lind and Lewis Jett. 2005. "The Missouri Regional Cuisines Project: Connecting to Place in the Restaurant." Refereed book chapter contributed to Urban Place: Reconnections with the Natural World, edited by Peggy F. Barlett (MIT Press).
Lind, David H. and Elizabeth Barham. 2004. "The social life of the tortilla: Food, cultural politics, and contested commodification." Agriculture and Human Values 21, 1.
Marpeck Fund Grant entitled "Sociology Collaborative Meeting," 2016
Marpeck Fund Grant entitled "Sociology Collaborative Visioning and Planning," 2015
CITL Faculty Research Fellowship entitled "Appraising Community Belonging through Food and Nutrition: An Exploratory Study of Latino Experience in the Goshen Community" for 2009-10