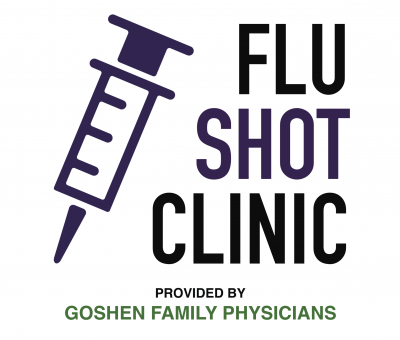 On-campus flu vaccine clinics will be conducted by Goshen Family Physicians for all students and employees every Monday and Thursday in October. Flu vaccination is strongly recommended this year for all GC students and employees and particularly important this fall because the flu and COVID-19 have many similar symptoms. By reducing the flu, not only are we all healthier, we will be better able to identify the true COVID-19 cases and avoid unnecessary quarantine and isolation.
Flu vaccinations are free and covered by your family or employee health insurance. Goshen Family Physicians is requiring that all students and employees fill out the forms linked below before showing up on-site for a flu shot. You will need photos of your driver's license and insurance card information in order to complete the pre-registration form.
---
REGISTRATION PROCESS
STEP 1:
STEP 2:
LOCATION
Koinonia Room at College Mennonite Church
DATES & TIMES
Every Monday and Thursday in October, 9:30 a.m. – 1:30 p.m.
Thursday, October 1
Monday, October 5
Thursday, October 8
Monday, October 12
Thursday, October 15
Monday, October 19
Thursday, October 22
Monday, October 26
Thursday, October 29
---
OFF-CAMPUS RESOURCES TO ACQUIRE FLU SHOTS