Here you'll find messages of support for GC students and other ways to connect during the Covid-19 campus closure.
Ongoing opportunity:
Monday morning prayer with Campus Ministries: Join Joanne Gallardo, our campus pastor, and the Student Ministry Team for prayer on Monday mornings at 10 am. The Zoom ID is: 204-305-583. The gathered group will be praying for themselves, our community and our world. If you have a prayer request, fill out this Google form and the group will include it in their time together. You can remain anonymous if you wish.
---
June 12th, 2020
Career Planning During COVID-19
Dave Kendall, Coordinator for Career Networks, sends greetings and well wishes to GC students and gives a guided tour of the Career Planning Guide.
---
May 27, 2020
GC's International Students
My work in Student Life focuses on serving as international student adviser and supporting the personal and academic needs of GC's 60 plus international students. I have been reflecting a lot in the past weeks about the importance of having international students at our institution and the joy it is for me to get to support this great group of people.
Sometimes we think about how students are fortunate to be here, but I also love to think about how lucky we are to have our students with us, and in particular this group of international students. International students bring diverse perspectives, cultural practices and many other differences that help us think about and understand our own views and practices. They are an engaged group, who are open to being connected to each other and the rest of us on campus. 
I also want to thank the rest of the students on campus for helping integrate these students on our campus. This takes many forms, but is beautifully exemplified by the diverse members of the International Student Club. ISC has more than 150 members, with less than half of those being international students. Thanks to you all for your interest in connecting with each other.
To our international students, know that GC and our local community care deeply for you and value what you bring to our community. I hope that wherever you are, you, your family and your communities are doing okay. We look forward to welcoming you back to campus in a few months and continuing our journey together. In the meantime, do not hesitate to contact me if you have any questions or need support.
Dan Liechty
Director of Alumni Engagement and International Student Advisor
---
May 27, 2020
Feeling anxious or afraid? Listen to this inspiring hymn
Growing up Catholic, I didn't appreciate hymns; they weren't part of my family's church tradition and we never talked about them, much less played or sang them, outside Mass. So, it wasn't until I was a young adult that I learned and sang hymns that stirred my soul and made me feel closer to God.
The hymns I loved most were by the St. Louis Jesuits – composer-performers Bob Dufford S.J., John Foley S.J., Tim Manion, Roc O'Connor S.J., and Dan Schutte, who met and began making church music together as young Jesuit seminarians in the early 1970s while at Saint Louis University. Their compositions include such cherished hymns as "Earthen Vessels," "The Cry of the Poor," "Sing to the Mountains," "Here I am Lord," "One Bread One Body," "Yahweh, I Know You Are Near," and "Lift Up Your Hearts."
I appreciated them all, but the hymn that resonated most for me was "Be Not Afraid," which was composed by Bob Dufford, based on Isaiah 43:2–3 and Luke 6:20.
What I love most about this hymn is that Dufford's message is accessible and achievable to all his listeners. He isn't calling on us to be courageous; he's just encouraging us to have faith and not be afraid.
For a June 2018 interview in "America: The Jesuit Review of Faith & Culture," Dufford recalled that he wrote the song in 1972, before he was ordained, when he was dealing with anxiety about his future as a priest. "Where would he go? What sort of work would he do as a priest? Would he be any good at it?"
As reported in the magazine, Dufford's spiritual director "suggested that he pray with the Annunciation in mind. Perhaps he could relate to Mary, who was 'greatly troubled' when the angel appeared to her and said she would give birth to the Messiah. Dufford read the passage, and the angel's words stuck with him: "Do not be afraid.' The line 'Be Not Afraid' came to Father Dufford on that retreat, with the same melody it has today."
A few weeks later, as a friend was about to leave for missionary work in Africa, Dufford reflected on the end of Matthew's Gospel, when Jesus declares, "I am with you always." That inspired the second line of the hymn's chorus, "I go before you always." Dufford adapted the line "Come, follow me" from another of his songs about Jesus and later added, "And I will give you rest," to conclude the chorus. Within a year, he finished writing the other verses.
Although Dufford didn't have high expectations for the hymn, "Be Not Afraid" eventually was published in the hymnal of every Christian denomination. In 1993, President Bill Clinton selected "Be Not Afraid" to be played at the church service he attended on the morning of his inauguration. Sister Helen Prejean, known for her work to end the death penalty, often sang the hymn to death row inmates and this was depicted in the climactic reconciliation scene in "Dead Man Walking," the movie based on Prejean's work: https://www.youtube.com/watch?v=xQyYa3DBhNA
I've found "Be Not Afraid" to be of great comfort during these days of uncertainty, anxiety and fear. So if you need some extra support or solace, I recommend that you learn and sing this hymn.
Along with the beautiful lyrics, here's a link to a video of "Be Not Afraid" performed by Dufford and the St. Louis Jesuits: https://www.youtube.com/watch?v=FYlBnCqCMbk
BE NOT AFRAID
 (Bob Dufford, S.J., a Catholic Hymn)
You shall cross the barren desert
But you shall not die of thirst
You shall wander far in safety
Though you do not know the way.
You shall speak your words to foreign men
And all will understand
You shall see the face of God and live.
Be not afraid
I go before you always
Come follow Me
And I shall give you rest.
If you pass through raging waters
In the sea, you shall not drown
If you walk amidst the burning flames
You shall not be harmed.
If you stand before the pow'r of hell
And death is at your side
Know that I am with you, through it all.
Be not afraid
I go before you always
Come follow Me
And I shall give you rest.
And blessed are your poor
For the Kingdom shall be theirs
Blest are you that weep and mourn
for one day you shall laugh.
And if wicked men insult and hate you
All because of Me
Blessed, blessed are you!
Be not afraid
I go before you always
Come follow Me
and I shall give you rest…
Need help? As Community Impact Coordinator, my responsibilities include helping recruit and retain students; creating and supporting programs to provide students with emergency financial assistance (including the Student Benevolent Fund); linking students to experiential learning opportunities; creating partnerships with community leaders and organizations; and serving as a community organizer to address social justice causes important to students. Besides co-teaching Identity, Culture & Community (Core 100) and teaching a Learning Community (Core 104) class, I'm the adviser of the Latino Student Union, and serve on the Diversity, Equity & Inclusion Task Force and the Bias Matters Response Team. I'm also on the board of the Center for Healing & Hope which provides health care and support and advocacy for immigrants, including emergency financial assistance. If you need emergency financial assistance or want learn more about community engagement, please contact me at rraguirre@goshen.edu.
By Richard R. Aguirre
Community Impact Coordinator
---
May 20, 2020
Video: A new message from Campus Counseling
Jennifer Miller – Campus Counselor
Hi, welcome to the Goshen College Wednesday Wellness message. My name is Jennifer Miller and for those of you who do not know me yet, I'm one of the 3 campus counselors, along with Rick Eby and Rachele DeFrancesco.  I watched the commencement live stream a couple of weekends ago and it was great to see all the smiling faces of the proud graduates. Congratulations class of 2020! It was also a reminder of the sadness and loss so many are experiencing; certainly not how anyone imagined commemorating and celebrating all those years of hard work!
It's hard to believe it's been 8 weeks now since GC students left campus and started remote learning, 7 weeks since the Indiana stay at home order was issued. Some of our feelings have changed from the initial shock, fear, and grief, to more bored, unmotivated, sad, and maybe impatient to get "back to normal". While some things are starting to open back up, things will be far from normal for a good long time to come. Probably a better way to think about it is not getting BACK to what used to be normal, but moving forward to a NEW NORMAL! 
One thing we are all learning to do better is tolerating uncertainty. There has been and continues to be so much we don't know and can not control or predict, including what the summer and the fall semester will look like. Mental health experts say that tolerating uncertainty can lead to decreased anxiety. In order to practice this, you can follow 3 steps:
Accept

that uncertainty is a part of life. You can not and should not try to fight it, in fact, you can face your fears and prove to yourself that you can cope.

Rethink

your attitude towards uncertainty. What would life be like if we knew every outcome? If there were no surprises? Like a spoiler that gives away the end of a good movie or book. Maybe uncertainty is not all bad!

With this new attitude, you can begin to

embrace

uncertainty and become more curious about it. You might even start appreciating and enjoying uncertainty! 
Campus counseling services will be ending when May term ends next week, resuming with the fall semester in August. If you think you will need mental health support over the summer, please reach out to a private or agency counselor in your community, or to a crisis helpline (text TALK to 741-741 for immediate confidential crisis support any time). If you need help making a connection or a referral, please feel free to email any one of us in the counseling department or in Student Life.
I'd also like to remind you of an app that is available to all Goshen College students on any of your devices. It's called myStrength, and it has an abundance of tools to help you build resilience and develop coping skills that will make your lives a little bit easier. It even has resources specifically directed toward coping with the current COVID-19 pandemic. It's a really great app, you should definitely try it! All of us in Student Life look forward to talking to you and especially, hopefully, to SEEING you all in the fall! Take care of yourselves this summer!
---
May 20, 2020
Video: A new message from Campus Ministries
Joanne Gallardo – Campus Pastor
---
May 13, 2020
Video: Student Life without our students (Phil and Zach from Residence Life)
---
May 6, 2020
Video:  An update from Gilberto Perez, Jr. – Vice President for Student Life.
April 22, 2020
Video:  DEI Wellness Message from Dr. Lakendra Hardware
---
April 22, 2020
Stay Connected with Career Networks 
Hello Maple Leafs. My name is Dave Kendall, Coordinator of Career Networks here at Goshen College. I hope this message finds you safe, healthy and in a place that gives you comfort and support during this anxious time.
I wanted to reach out and let you know that we miss you and are thinking of you all.
I want you to know that Career Networks is here for you and will be on hand to help you with all things having to do with career readiness.
So, what does that mean…what does that look like? Well, it means that we can stay connected. Even though we have distance separating us, we can use our technology to bridge that space. This might mean we connect through an email or maybe we have a Zoom meeting to talk about what you might need. This is especially a priority for our seniors who had to leave without normal closure and likely feel an extra sense of pressure to know what to do next.
I want to hear from you. You can Email me at careers@goshen.edu or at davidk15@goshen.edu to set something up. 
Remember that the Career Planning Guide is a wonderful resource to use to help you prepare for the job search. I would recommend using it as a tool for getting your career readiness materials in good shape.
Also, I'm sure you've heard it a lot by now, but we're all in this together! I'll echo what our own Dr. Duane Stoltzfus mentioned in an earlier support video. Take care of yourself! Get plenty of sleep and good rest and eat as healthy as you can (fruits and veggies!!). Also, try to find solace in the fact that social distancing and sheltering in place are working to bring the COVID-19 curve down. This isn't over and may not be for quite a while, so we must do what we can to protect ourselves and others.
I look forward to hearing from you!
Sincerely,
David Kendall
Goshen College Coordinator of Career Networks
---
April 22, 2020
Finding Encouragement in Troubling Times
I hope you are all well and finishing this semester strong. I have been reflecting in the past few weeks on things for which I'm thankful, even in these challenging days. I find this helpful, but I am also forced to remember that so many people around me are struggling for the very basic necessities in life. 
Around two years ago, my family and our next door neighbors started a small pantry in our front yard called the Love Shack. It's a place where people can share food and personal items from their abundance or can take something in a time of need. It mostly serves people living in our neighborhood, but people from around Goshen consistently come to share from their pantries. We have seen a definite uptick in the number of people coming looking for food in the past few weeks, but we've also seen increased generosity. 
I hope that you all have what you need for your families to stay safe and meet your needs. If not, please connect with the college and let us know if you are having any trouble. We have a lot of resources that can help you whether it's related to your personal life or to support your studies. 
As I noted at the start of this, I am thankful for a lot of things. One that keeps coming back to me is that more than 130 people who had purchased tickets to the International Student Club (ISC) Coffeehouse chose to donate their ticket money to ISC, rather than ask for a refund. This generosity means that rather than starting the coming academic year with a much smaller budget, we will still be able to have a lot of fun activities next year. These relatively small acts of kindness add up to make a huge difference for our campus next year.
I know times are tough, but I encourage you to keep thinking about ways that you can be thankful and share how you can to make the lives of others around you better. This can be financial support, but more often people now are just craving connection. I've seen an increase in the number of cards coming in and out of our house. I encourage you to connect with others however you can, until we can meet again in person on campus!
Dan Liechty
Director of Alumni Engagement and International Student Advisor
---
April 15, 2020
Tough Times Will Strengthen Us – (GC Athletics)
The athletic department wanted to send out our best wishes and support to all of our MapleLeaf family, wherever you are in the world. With the challenges that we have been facing during these unprecedented times, we want to remind you all that we are here for you and supporting you through the ups and downs of this journey. Tough times will strengthen us all and we cannot wait to see you back on campus soon, stronger than ever, and ready to take on a new year TOGETHER! We miss you and wish you and your families the best as you finish the semester strong. GO LEAFS!
---
April 8, 2020
After Every Storm, There is a Rainbow.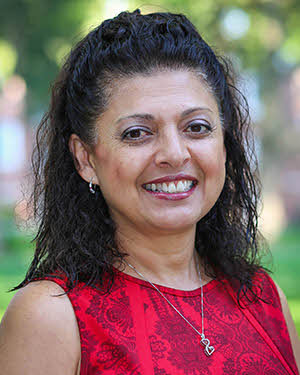 I hope this message finds you safe and healthy as many of you are now in your third week of online classes. I don't think any of us could have imagined how this COVID-19 pandemic was going to affect our personal interactions nor the impact it would have on the way we go about our daily lives.
Many students, all over the world, have had to transition to online learning. Many of us had to learn how to use new software in order to virtually work from home. On the other hand, many businesses have had to close their doors, resulting in many people losing their jobs. Many of us have had to cancel plans we were really looking forward to. This list could go on and on.
However, I believe that everything happens for a reason. In the midst of this chaos I am choosing to stay optimistic. I ask myself daily – "What good can come out of this world-wide disarray? What good can come out of MY day TODAY? How can I stay positive?" I would encourage you to ask yourself these question. Perhaps, students will become experts on how to manage their study time more effectively; people will learn how to work more productively outside of the office; employees will acquire new skills that will make them more essential at their workplace; employers would develop creative procedures to stay afloat when facing unprecedented situations; families will make time for each other and value the significance of spending quality time together.
I invite you all to stay positive and to keep your spirits up. I know many of you have had to go back home, all of you made changes on how you take your classes, and some of you feel anxious, stressed or overwhelmed, but don't let adversity get in your way. The academic year is almost over and you can finish it strong and successfully. Keep in mind that after every storm, there is a rainbow. Consider what are the good things that will come out of what is going on in your life right now. This COVID-19 situation will not last forever. Look forward to what is to come- you will be stronger and more prepared to face any unprecedented situation.
Please take care of yourself and those around you!
Peace and blessings to you,
Rocio Diaz
Director of Community Engagement and Adult Outreach
---
Wednesday, April 8, 2020
How to live with differences in a time of partisanship, anger, and conflict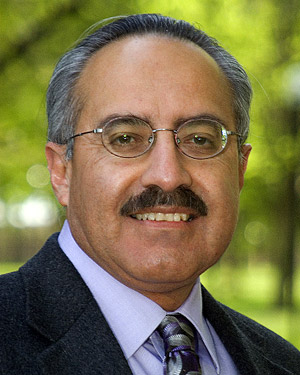 During my 13-plus years at Goshen College, I've known far more self-described introverts than extroverts. Most have said they were capable of spending time in groups, and even engaging in spirited discussions, as long as they had time alone afterward to recover and recharge.
Growing up in a family of nine mostly extroverts, who loved weekend gatherings of 20 or more relatives almost as much as arguing loudly, I learned to enjoy time alone, especially after I discovered a love of reading. Still, over the years I've come to realize that I need people – individually and in groups – to feel energized and motivated. So, the switch to work at home has been difficult, as I'm sure it's been for many Goshen College students and employees.
We miss our friends, familiar routines, our lovely campus and the joy of living and learning in community. We might even miss convocations, chapels and other large gatherings, intense discussions and friendly disagreements. Now we're spending more time alone and online.
Some of us are also spending much more time reading, listening to and watching news coverage about the COVID-19 epidemic, including who's to blame for its spread and what to do about it. For the most part, that hasn't been very satisfying. In fact, it's been confusing and frustrating.
That's because of instead of a fostering a sense of shared sacrifice and common cause, many of our elected leaders seem unwilling to get along with those from a different political party and refuse to acknowledge that it's possible for there to be diverse and valid opinions on such complex issues as how best to survive COVID-19 and maintain the national economy.
Although we may all try to stay above the fray, inevitably, it's hard not to get drawn into the partisan disputes or demonizing the other side. So, what can or should we do when confronted by angry or unreasonable viewpoints? How can we control our emotions and live with differences?
Here are some tips on how to deal with disagreeable people and better manage our emotions based on my decades of experience as a newspaper reporter and editor, a communications and marketing director, a director of corporate and foundation relations and a community impact coordinator.
Keep your perspective because we all exaggerate at times. We sometimes say we're "exhausted" when we're a little tired or that we're "starving" when we've just skipped a meal. Likewise, some people say they're "angry" or "disgusted" when they're just frustrated or annoyed.
Understand that anger and other strong emotions aren't always related to what a person is complaining about. Sometimes it's about something else. A person's rant about someone from another political party may not stem from a hatred of others than it actually reflects their fears, insecurities, confusion or feelings of powerlessness about something else.
Listen with an open mind. People don't necessarily expect you to agree with them or solve their problems; sometimes they just want to blow off steam and be heard. When I was a newspaper editor and got a phone call from an angry person, I normally spent 75 percent of my time listening without interruption. Within a few minutes, callers usually calmed down and stated what bothered them the most, and we then could have a productive conversation. Of course, there was no calming some people complaining when a favorite comic strip was dropped.
Limit the abuse you'll tolerate even as you seek to defuse a person's anger and find common ground. If someone uses abusive, sexist or racist language, make clear that you're willing to listen, but not if the person continues using hateful language. I was willing to tolerate F-bombs, for example, but was unwilling to listen to racist tirades.
Decide how long you'll engage with an angry or unreasonable person so that you don't absorb too much negativity. If a person is continually hostile, it's best to disengage, wish them well and leave the conversation. It's not possible to positively engage with some people.
To reduce the tension of an intense encounter, be empathetic and show that you've listened by repeating back what the person said – in a form that's comfortable to you. Demonstrating that you're truly listening can set the stage for a productive conversation.
Seek some point of agreement or common ground with the angry person, which can reduce the tension of the encounter. Offering some affirmation can reduce a person's emotional energy and lead to a calmer and more civil conversation. During one period at Goshen College, I fielded calls from military veterans who accused the college of being unpatriotic. After disclosing that my father served in the U.S. Navy during World War II, these callers were pleasantly surprised – and more willing to listen to my defense of the college. One even offered to visit the college.
Once you've establish some level of rapport, consider offering your own perspective and appeal to the person's sense of reason. When I was an editor, I watched Fox News coverage so I could better understand conservative perspectives. After I mentioned stories from Fox, many angry callers were more willing to listen to my defense of the newspaper's coverage. Still, if you can't reach any agreement, try to end the conversation with civility by telling the person you respect him/her but wish to end the conversation.
Regardless of how upset a person is and how despicable their viewpoint, remember that he/she is a child of God and we're called to be tolerant and loving. I once lived near a white Holocaust denier who stirred discord and hatred by placing ads in college newspapers that denied Germany killed millions of Jews during World War II. This was a horrible thing to do. Yet I found it hard to truly hate him because he was married to a Mexican immigrant and had a young daughter – about the age of my own daughter – and he treated his family with great love.
After an intense encounter, take time to decompress, recover; and care for yourself. Hostile interactions take an emotional and personal toll; they can shatter your sense of calm and throw you off balance, so take some time to recover. Prayer helps. I talk to family members or friends and ask how they would have handled the situation. You might learn other techniques to defuse an angry situation. With time, you will feel yourself again – centered and optimistic – and you'll be better prepared the next time you're confronted by an unreasonable person.
Need help? As Community Impact Coordinator, my responsibilities include helping recruit and retain students; creating and supporting programs to provide students with emergency financial assistance (including the Student Benevolent Fund); linking students to experiential learning opportunities; creating partnerships with community leaders and organizations; and serving as a community organizer to address social justice causes important to students. Besides co-teaching Identity, Culture & Community (Core 100) and teaching a Learning Community (Core 104) class, I'm the adviser of the Latino Student Union, and serve on the Diversity, Equity & Inclusion Task Force and the Bias Matters Response Team. I'm also on the board of the Center for Healing & Hope which provides health care and support and advocacy for immigrants, including emergency financial assistance. If you need emergency financial assistance or want learn more about community engagement, please contact me at rraguirre@goshen.edu.
By Richard R. Aguirre
Community Impact Coordinator
---
Wednesday, April 1, 2020
A Message from Campus Ministries
Greetings to you in the name of Jesus who is present to us in our times of uncertainty.
As we move into a time where we shift from in-person to online meetings, please know that the Student Ministry Team and I are here for you. Whether you are strong in your faith or figuring things out on your own, we care about you and your wellbeing during this time.
In a time where there's a lot of fear, I am finding it hard to not be fearful. The news, social media, and our lived experience can have us feeling depressed, afraid, and anxious.
I recently heard a sermon by Nadia Boltz Weber talking about the opposite of fear. She thought that the opposite of fear might not be courage, but love. Jesus' words of "Fear not" might not resonate with us during this time, but the love of God, our family, and our friends can speak to us when words, written or otherwise, cannot. It is my sincere hope that you are able to feel love surround you during this time.
To that end, we are instituting a time of prayer Monday mornings at 10 am via Zoom. If you would like to join us for that meeting, click on this link Monday mornings at 10 am: https://zoom.us/j/4061621324
Meeting ID: 406 162 1324
Whether or not you are able to join us, we are always taking prayer requests from anyone part of the GC community via Google Forms. You have the option to remain anonymous. If you'd like someone to follow up with you, you have the option to request that, as well. To submit a prayer request, click here:  https://forms.gle/yn5pGuNQjwmHHqpv9
Thirdly, I am opening up time in my Monday and Thursday schedule for anyone who would like pastoral care. Whether it's to talk about stressors in your life, something spiritual, or just a need for connection, go ahead and sign up for a time. That link can be found here: bit.ly/PastorJoanneG
As we live into a "new normal," it is my prayer that we can do so in love, grace, and peace.
Joanne Gallardo
Campus Pastor
---
Wednesday, April 1, 2020
Counseling Services Continues to Serve
Mark Twain once said "If you tell the truth, you don't have to remember anything." So whenever anyone asks me what I think about being a campus counselor at Goshen College, I pretty much give them my standard answer, "It's the best counseling job I've ever had." Even though students who make appointments to see me are struggling with any manner of stressors, I am constantly amazed by the caliber of student who chooses to seek counseling. The GC students I see are smart. They also have big plans, not just to better themselves but to make the world a better place. And while you can find smart and ambitious students in any Ivy League school, you will also find that most GC students also have an abundance of empathy and compassion for others that I fear may be in short supply on other campuses. Counseling Services at Goshen College has been one of the most effectively utilized services on campus. In the week prior to the emergency campus closure, over 4% of Goshen's student body sought counseling services. This semester, I share counseling duties with Jennifer Miller, Rachele Defrancesco, and Kathleen Jones. The reasons students have for seeking services can vary dramatically. I'm glad to say that our door is open to any student and that no problem is too small. While some needs can be addressed quickly and easily, others have required a concerted effort on the part of the students and counselors. We also have the benefit of working with faculty members, other college staff, and outside support. While we always seek to improve our ability to serve students, we have felt confident that we have been able to make a difference in the lives of our student body.
As you may be getting tired of hearing, "Then everything changed." Within a week, I went from having 15 students on my schedule to none as students were directed to leave campus and continue their studies at home. Goshen College students joined the other nearly 20 million college students in the United States who were unexpectedly thrust in the role of "e-learner." 
I'm old enough that I have to admit that I've never been an e-learner. I've never conducted a counseling session over the internet before, either. And while I didn't foresee that I would have to make this transition from face to face contacts to virtual contact, I as well as the other counselors at Goshen College have begun to do so. And you know what? It works!
Jennifer, Rachele, Kathleen, and I are continuing to see existing and new student clients for the rest of this school year using the Zoom video conferencing service. If you are having difficulty adjusting to the changes brought about by the current COVID 19 health crisis, please don't hesitate to reach out to one of us. If you haven't seen one of us before, go to the counselor's page at https://www.goshen.edu/campuslife/counseling/ and click the "Request an Appointment". After you send us your information, one of us will reach out to you to set up an appointment. You may also email any one of us directly. There is a possibility that extensive counseling services may not be available to some students living outside of Indiana, but we are continuing to investigate if this will be an ongoing issue. 
I'd also like to provide you with access to an app that is available to Goshen College students on both your computers and mobile devices. It's called myStrength, and it has an abundance of tools that will enable the user to build resilience and develop coping skills that will make your lives a little bit easier. It even has resources specifically directed toward coping with the current COVID-19 health crisis. It's my favorite wellness app. Please contact me for more information regarding the myStrength app. 
You've heard this many times already but I'll say it again. "Stay Safe." I hope to see many of you again in person later this year.
Rick Eby
Campus Counselor
---
Wednesday, April 1
Making the sudden move to online study and finishing the semester away from campus is a challenge. Read about some tools and strategies to finish Spring Semester successfully with these ASC blog posts.
---
Wednesday, April 1
A video message for students from Rustin Nyce, associate athletic director and head cross country and track coach
---
Tuesday, March 31
Every college student knows the marathon study day. Here are my tips for starting it, sticking with it, and getting it done.
---
Tuesday, March 31
A video message for students from Duane Stoltzfus, professor of communication
---

Monday, March 30
Here is a list of things to remember and to try if you've hit a roadblock or feel like you need to get yourself back to where you were!
---
Monday, March 30
A video message for students from Erica Albertin, associate athletic director and head athletic trainer
---
Friday, March 27
As we all make this transition to online and isolated learning, Junior Claire Rauck has some words of encouragement on how we can all move forward during this difficult time.
---
Friday, March 27
A video message for students from Dr. LaKendra Hardware, director for diversity, equity & inclusion
---
Thursday, March 26
"We can't skip the stages of grief, but we can be kind to ourselves and one another as we flow through them — sometimes in waves and loops." » Read the rest of the post
---
Thursday, March 26
As we live into online learning and life away from school, it is important to also pause to give time and attention to our mental wellness.
---
Thursday, March 26
A video message for students from Gilberto Pérez Jr., vice president for student life and dean of students
---
Wednesday, March 25
Today we've got tips for staying disciplined and motivated when you're feeling bored or discouraged. 
---
Wednesday, March 25
A video message for students from Kathy Meyer Reimer, professor of education
---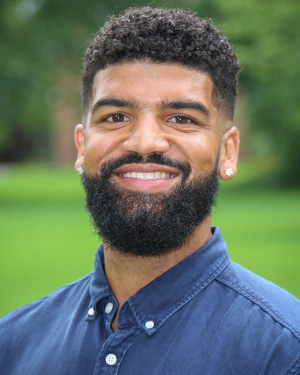 Tuesday, March 24
Today we have five tips for being more successful when studying and learning at home.
---
Tuesday, March 24
A video message for students from Ann Vendrely, VP for academic affairs and academic dean.
---
Tuesday, March 24th, 2020
Refusing to Lose Touch
We wanted to reach out to you as members of the Student Life team and offer you our words of encouragement and support as well as updates on some things that were coming up pertaining to the upcoming fall semester.
As you can imagine, this process has been very, very unsettling and 100% not the way anyone in Student Life would have liked to finish out the school year. We should be celebrating senior recitals and senior athletics, preparing for housing selection, and celebrating Commencement Weekend. That might look a little different this year and that is probably painful for most of you. 
We are very aware it feels unfinished, especially for seniors, and there are a lot of challenging realities that some of you may have been unexpectedly thrust into this last week. 
It's painful for us as well, because our work and our passion in Student Life is you. When you're not here…we're kind of lost.
But here's what there's hope in:
We live in a world that is connected to each other in thousands of ways and through thousands of platforms. So refuse to lose touch with your peers and the GC staff and faculty. Chad and I have been working in Student Life for a very long time. We have seen a lot of classes come and a lot of classes go, and it brings us tremendous joy to stay in touch with students long after they leave campus. It also brings us tremendous joy to see you all continue to share your lives with each other: getting the first job, getting into graduate school, traveling, moving somewhere new. So, whether you're planning to come back next semester or not, do not consider an early goodbye the only goodbye.
Student Life will be posting Wellness Messages and updates every Wednesday right here on this page. Continue to check the Communicator, as well, as I'm sure there will be several announcements from a variety of sources about what's next for GC.
Grace and peace to you. God bless. You are missed, and you are loved.
Connecting with Student Life:
All of us on the Student Life team are available to you either via phone, email, or several other newfangled social media platforms that, I personally, never knew existed until around a week ago. Everyone is still able to help you — student involvement, counseling services, campus ministries, academic success center, DEI, career networks, community engagement and impact, campus safety, athletics, the whole gang — is ready and willing to answer your questions and help you work with the remainder of the semester, May term, and into the summer.
Corie Steinke
Director of Student Involvement
Chad Coleman
Director of Student Life Operations
---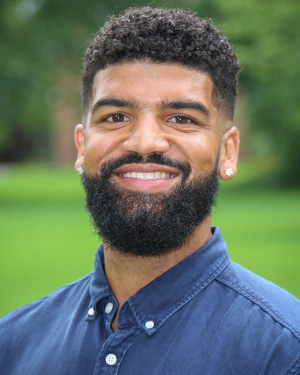 Monday, March 23 
Students — as you officially resume the semester online, the Academic Success Center wants to give you some basic study tips, reminders and ways to motivate you as you tackle the rest of the semester. Be on the lookout for our updates/blog posts for the next 7 days. » Read the first post
---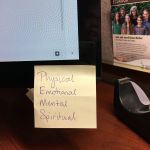 Sunday, March 22
"I keep a sticky note on my computer monitor with my personal checklist. It's a reminder, especially when I am stressed or overwhelmed, to go through my checklist, take stock of these dimensions of myself, and to devote attention and care to all of these capacities. This is more than self-care, it is self-equipping." » Read the rest of the post
---
Friday, March 20
A video message for students from Joanne Gallardo, campus pastor.
Email joannekg@goshen.edu if you are wanting to stay connected:
through a small group that meets online,
through a group that regularly prays,
or if you would like to write a note of encouragement to folks at Greencroft.
---
Wednesday, March 18
A video message from President Stoltzfus for our seniors and graduate students.