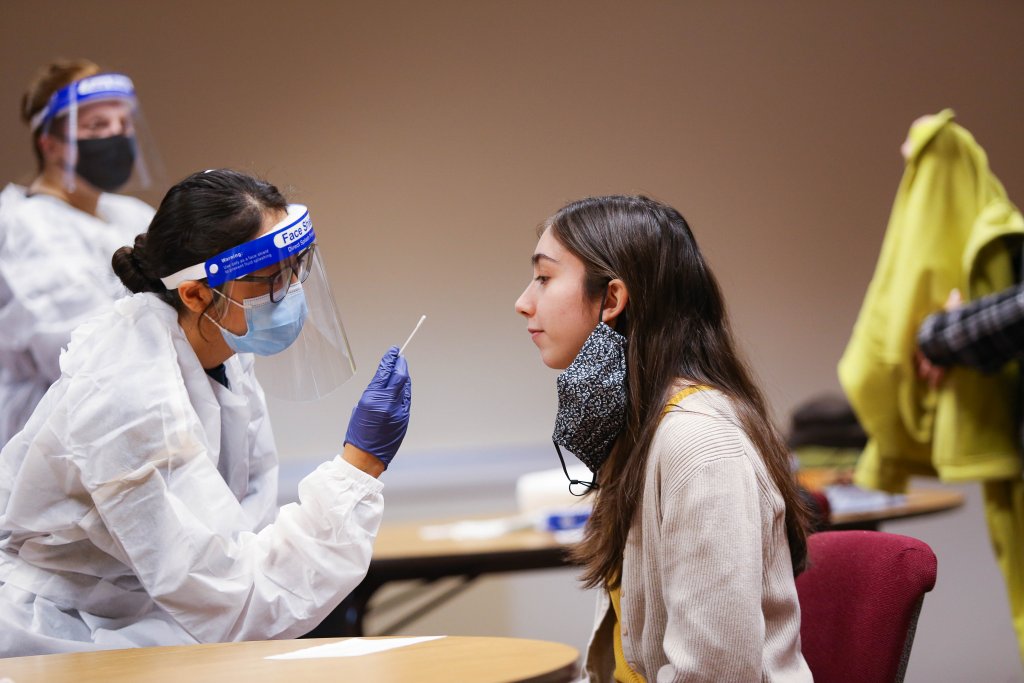 May Term 2021 COVID-19 Testing
Weekly COVID-19 testing on campus is required for all students and employees.
Exceptions:
Two weeks after you have received both doses of the COVID-19 vaccine.
If you are studying or working remotely this semester and not interacting in-person with any campus members.
If you have tested positive for COVID-19 in the past 3 months. For example, for the week of January 17, you will be exempt if you have had COVID since October 17, 2020.
The walk-in testing clinic each week will be: 
If this time doesn't work for your schedule at all, please email pandemic@goshen.edu so that we can determine a solution that will work for you.
Where: Church-Chapel Koinonia Room (across from the Fellowship Hall)
How to get tested:
NO SIGN UP AHEAD OF TIME IS REQUIRED. Just show up during one of the available testing clinic times (listed above). Choosing a time that is not at the start time of any scheduled testing block will probably help you avoid longer lines.
We will notify you within 1 hour of the test if your test result is positive, and work with you on your next steps for isolation and contact tracing. If you do not hear from us within one hour, you may assume your test was negative.
There is no cost for these tests for students or employees, and your insurance will not be billed.
Why are we testing weekly: Very regular surveillance testing will help us quickly identify any positive cases on campus to reduce the spread of COVID-19 to others. It is one more significant layer of prevention — in addition to the Big Four and other steps we take. We hope it will help all of us feel more secure about our health, individually and as a community, and continue teaching and learning together.
What will happen if you do not get tested: Students who miss more than one week of testing in a 4-week period will be fined $25. Fines will escalate if more tests are missed.
Live COVID-19 Testing Webcam (only accessible for viewing on campus)
Want to see if there is a line at the walk-in testing clinic? Check it out here.
---
Flu Shots
Flu vaccination is strongly recommended this year for all GC students and employees and particularly important this fall because the flu and COVID-19 have many similar symptoms. By reducing the flu, not only are we all healthier, we will be better able to identify the true COVID-19 cases and avoid unnecessary quarantine and isolation.
The on-campus flu clinics during the fall have now come to a completion, though we are working at scheduling more in the spring. If you still need to get a shot, check out these off-campus locations for free shots (with insurance).
OFF-CAMPUS RESOURCES TO ACQUIRE FLU SHOTS