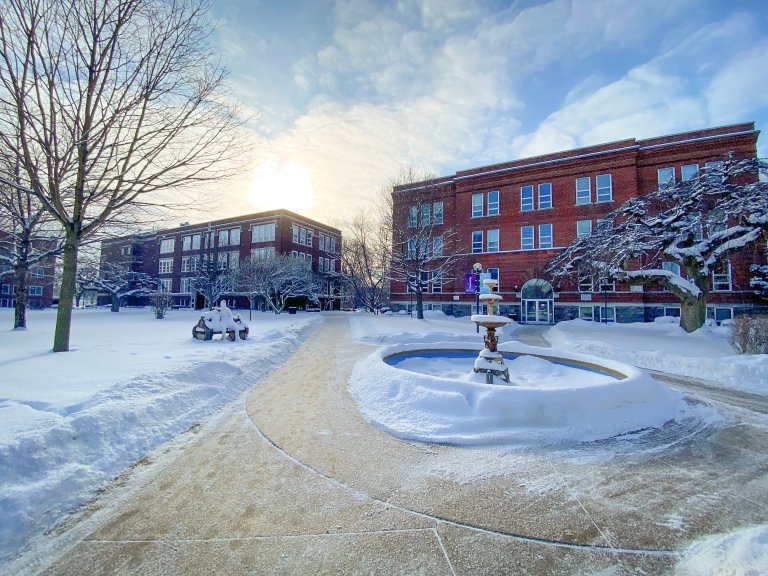 Posted 1.5.22
We are pleased to share our Spring 2021 plans for COVID-19 management:
Mandatory return-to-campus COVID-19 testing for ALL students:

All students who will be studying on campus this spring must be tested for COVID-19 and provide a negative rapid antigen test result to us between 1/7-1/11.
We strongly encourage you to get tested at home or at a community testing site before returning to campus. You just need to complete this Return to Campus COVID-19 Test Form before Jan. 12 (including a photo of your rapid antigen test result with your name and date of the test written on it). If you are positive, please let us know using this form and staff will counsel you on how to complete the isolation period at home before returning.
If you are unable to access a rapid antigen home test or get to a community testing site in time, you can be tested on campus for a one-time cost of $25 (billed to your student account) on Sunday, Jan. 9 (12-6 p.m.) or Monday, Jan. 10 (12-5 p.m.) in the RFC Room 104. You must sign-up for this rapid test by Friday, Jan. 7, using this sign-up form. See the tabs at the bottom of the spreadsheet for choosing the date/time that works for you.
Students, there is a $50 non-compliance fine for not turning in a test result or getting tested on campus.
Employees are encouraged to get tested at the on-campus testing clinics if you have not been tested in the past several days and will be working on campus next week. There is no cost to employees.

Vaccinations and boosters: COVID-19 vaccinations are required for all enrolled students who are studying on campus and employees working on campus. Boosters are strongly recommended as soon as you are eligible.

Medical and religious exemptions

Face masks are required indoors (see the mask policy): Properly worn face masks are again required for all individuals in shared indoor public spaces on campus, regardless of vaccination status.

Shared indoor public spaces include foyers, elevators, hallways, restrooms, classrooms, public event spaces, gathering spaces; public dining areas when NOT actively eating or drinking; and in vehicles while driving or riding with others for a college-related activity/business.
Masks are not required in residential spaces (res hall floor, campus apartment or campus small group housing with floormates or housemates), private offices, during active athletic intercollegiate practice or competition, public dining areas when actively eating or drinking, or outdoors.
Mask quality makes a difference in terms of effectiveness. While cloth masks are acceptable, we strongly encourage all campus members to wear a KN95 (best) or surgical masks (better) instead. In general, campus members need to purchase their own masks (here's a recommended place to purchase them online).

Weekly required testing for unvaccinated students and employees: Weekly COVID testing will continue to be required for unvaccinated students and employees who are studying or working on campus.

Testing options:

Mondays, 2-4 p.m. — Wyse Hall Room 122
Fridays, 10 a.m.-noon — Rec-Fitness Center (RFC) Athletic Training Room
Set an appointment: Students can also receive testing outside those open hours by setting up an appointment with Luna Campos in Health Services at (574) 535-7474. If an immediate test is required, residential students should contact their resident director (RD).
In any week, you can submit a test result received at another community testing site to health@goshen.edu to meet the weekly testing requirement.

Asymptomatic vaccinated students who need or want to be tested on campus would be charged $10 per test and billed at the end of the semester. There are also free testing options in the broader community.

Isolation and quarantine:

Residential students who need to quarantine or be in isolation (if you test positive) will be moved into Miller Hall. The dining hall will deliver meals to designated pick up areas and Student Life will provide other support for these students. Students who live off campus will quarantine or isolate at home.
Emotional support during quarantine and isolation: Students who would like to speak to a campus counselor, campus pastor or a staff person from health and wellness or DEI staff, should contact Liz Andes, director of health and wellness, at landes@goshen.edu, or Dr. LaKendra Hardware, director of diversity, equity and inclusion, at lphardware@goshen.edu or (574) 535-7474.
Medical support during quarantine and isolation: Student Life staff will check in regularly with students in quarantine and isolation. Goshen Family Physicians is available for medical consultation.

Academics: We are again conducting spring semester classes in the delivery mode we were accustomed to before the pandemic. General academic questions can be sent to Beth Martin Birky in the Dean's Office (bethmb@goshen.edu).

If you need to quarantine or isolate, fill out the COVID-19 Reporting Form or your class absences may be unexcused. You will need to contact your professors if you are missing class (as well as your coaches and job supervisors). And we encourage you to talk with your academic advisor with any questions about your course schedule.
Faculty are not required to provide remote learning this year if a student is in quarantine or isolation. Instead, similar to other excused absences, faculty will work with individual students who miss class due to COVID-19 isolation or quarantine to ensure that they keep up course requirements.
Classroom seating distancing is 3 feet.
Many global education offerings are going forward, while continuing to carefully monitor conditions in host countries. Vaccinations are already required for all participants in our off-campus programs.

Residence life: There is normal residential living and community building available for undergraduate students.

Single rooms are available if desired, at the listed rate.
Campus dining protocols:

Masks must be worn in the dining hall, Leaf Raker Cafe or Java Junction when not actively eating or drinking, including while getting your food or drink.
In the dining hall, the Green Boxes are available again this year as your to-go option. You must bring them back in order to have them replaced with a new clean container. You should not use the Green Boxes to dine in the cafeteria and you should not throw them away.
In the dining hall and Leaf Raker, the AVI Fresh staff will wear masks when serving you, clean frequently and change utensils often.
Use hand sanitizer before and after eating, and after touching surfaces that are touched by others.

COVID Reporting Form

Students: If you have COVID-19 symptoms, a positive test result OR exposure to someone who has tested positive, please fill out the COVID-19 Report Form. You will be contacted by a Goshen College staff member to discuss your situation further and decide next steps.
Employees: Please use the COVID-19 Report Form only if you test positive for COVID-19, so that we can track cases and do contact tracing. If you have illness symptoms, stay home, get tested and talk to your doctor. If you are exposed to someone who tests positive, follow the CDC guidance for vaccinated or unvaccinated individuals, depending on your status.

Extracurriculars: Full extra-curricular activities, including athletics, fine arts events, service opportunities and other student life programming with appropriate COVID-19 protocol guidelines are available.
Public events: 

We will take additional precautions regarding large campus gatherings at least during the month of January. And we will seek to livestream as many public events as possible.
Masks are required at all indoor campus events, including for all spectators and event staff at athletic competitions.
During January, chapel and convocations will be in person (masked) AND livestreamed. Campus members are encouraged to attend or watch. All students will receive three chapel/convo credits for January.
Public events with reserved seating will continue to require proof of vaccination or a negative COVID test result for admittance, in addition to the mask requirement.
The Events Office will work with event planners around their COVID protocols.

Off-campus travel: Any campus member — students or employees — who travels off-campus for school business (clinicals, a conference, athletic competitions, internships, field trips, etc.) needs to follow the college's mask policy in those contexts by wearing a mask in indoor public spaces.
Handwashing and daily symptom monitoring: The positive effects of masks and handwashing to prevent flu and colds have been remarkable, in addition to preventing COVID. We strongly encourage you to continue to regularly monitor your health and well-being, and to wash your hands often.
We will continue to follow local, state and federal guidance, and make adjustments if needed.