by President Rebecca Stoltzfus
Guiding Framework and Reopening Stages
As we are all experiencing, our ways of interacting and moving about the world have changed. Until an effective vaccine and/or early treatments are widely available, the risk of COVID-19 will be with us wherever we live; we need to make wise decisions in the face of certain risks.
I know from my years in public health that our small size, our generously spaced campus and our culture of personal responsiveness are significant advantages as we return to campus. Protecting each other's health will require new and specific policies and procedures, as well as changes in habits and behaviors — nothing short of a truly community-wide effort, including altruism on the part of every student and employee. This is required because in this pandemic the health of each individual depends on the health of the community, and vice versa.
The educational experience and opportunities of our students are central to our plan of welcoming our community back in-person as safely as possible. While our educational experience is enhanced by being together, we are also confident that it can transcend formats and locations if we need to make a change during the semester, and for select students who qualify for our remote learning option. Even with the substantial adaptations we are making to keep each other safe from COVID-19, being physically present together on campus allows us to build closer relationships inside and outside of the classroom. Whether in the classroom or online, we are committed to providing all of our students an excellent, engaged and connected educational experience.
We continue to learn at a rapid pace about this novel coronavirus. Best practices, testing regimens, and our advice to you can and should change as we learn more about this virus, how it is transmitted, who is at risk and what will protect us. If a part of our plan does not work, we will change it. And if the community transmission of the virus becomes unacceptable, we will pivot to fully online learning. In considering whether to make that pivot, we will heed advice of our local and state authorities and monitor closely new infections in our GC employees and students, as well as the capacity of our local health system to provide for people who need care from COVID-19 or other illnesses. Read more about our decision factors and possible COVID-19 changes on campus.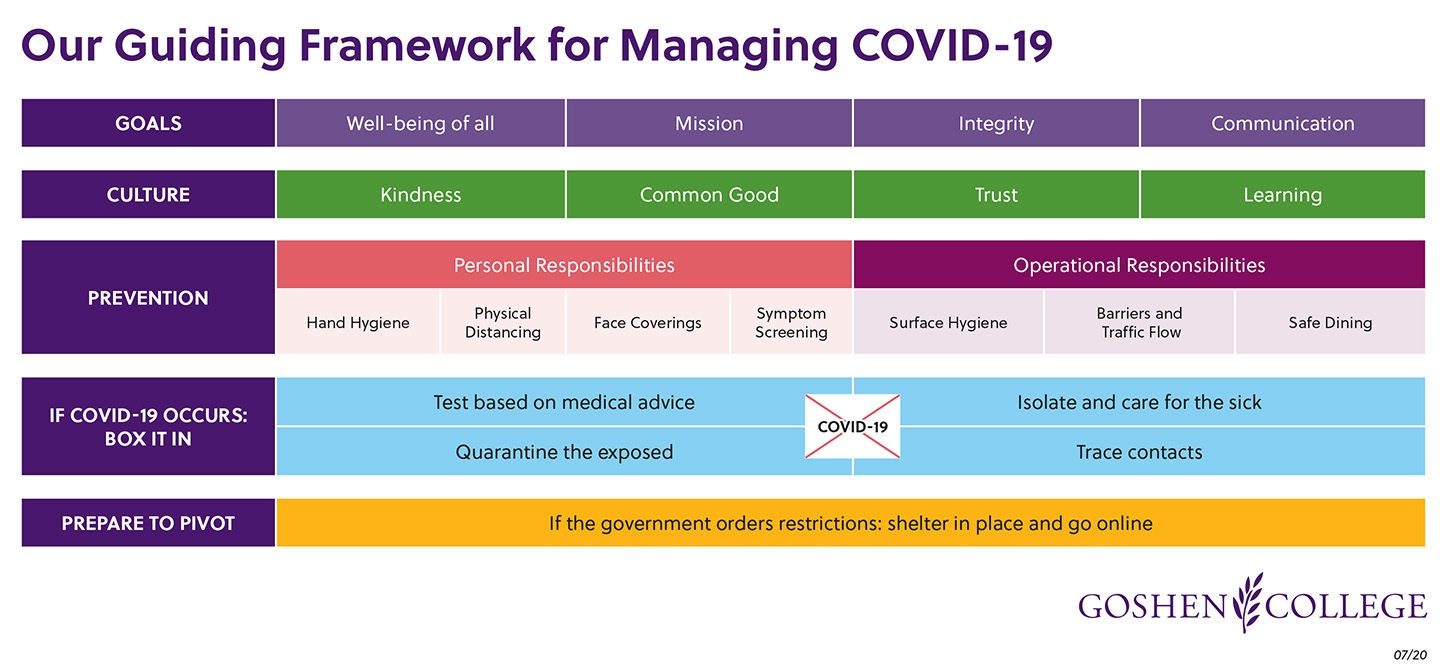 This guiding framework summarizes our approach for the 2020-21 academic year. In the sections that follow, we explain how this framework will guide our actions in the many areas of campus life, academics and college operations.
Goals
These goals guide our re-opening:
The well-being and health of all members of our campus community is our guiding concern.
We will enthusiastically pursue our mission and vision in flexible ways that respond to the challenges and opportunities of this time:

Pursuing academic excellence + real-world learning + active love for God and neighbor;
Cultivating joy, growth and purpose even in this time of change.

We will plan in ways that preserve the integrity of Goshen College, including relationships and morale, reputation and financial resources.
We will support our community through timely and transparent communication, careful listening, personalized responses and adaptive programs.
Culture
Protecting one another from COVID-19 will require numerous new behaviors, which will become easier as they become habits. Culture is often summarized as "the way we do things around here." As a community, we must work together to build a positive, healthy culture that helps all of us adopt new habits and "ways of doing things around here." The culture that we seek to create will be characterized by the qualities of:
Kindness
Commitment to the Common Good
Trust
Learning
Let's start by committing to be kind. The behaviors we must adopt go against our grain as social beings, and they are undeniably awkward. The frustration, fear and losses that we have experienced in this pandemic can make it difficult to be kind at times, but meanness is not the answer. In the midst of all that is new and awkward, gestures and words of kindness are especially important to keep all of us healthy in mind and spirit. We will all need reminders as we build habits that feel strange at first. So let's speak up, be clear and firm about what we need from others to feel safe and to be safe, and do so in warm and generous ways.
Our common good is very real. Our health quite literally depends upon each other now. Our behaviors will determine how much illness we experience, and indeed, whether we are allowed to enjoy small group interactions, athletics, and face-to-face teaching and learning this year. We must all behave every day with the knowledge that we might be an asymptomatic or pre-symptomatic carrier of the virus who — through our choices and actions — can protect others who might become very seriously ill with COVID-19. 
If we experience kindness from each other and know that each one of us is thinking and acting for our common good, we will begin to trust our community. Trust will allow us to relax, have more fun, enjoy more social interactions, and sleep well at night.
And let us not forget that this is a novel coronavirus. We have so much more to learn! Best practices, testing regimens and guidance can and will change as we learn more about this virus, how it is transmitted, who is at risk and what will protect us. As we learn, we will continually improve our plans and guidance.
No one of us can create a culture; it takes all of us.
— Created 7.24.20