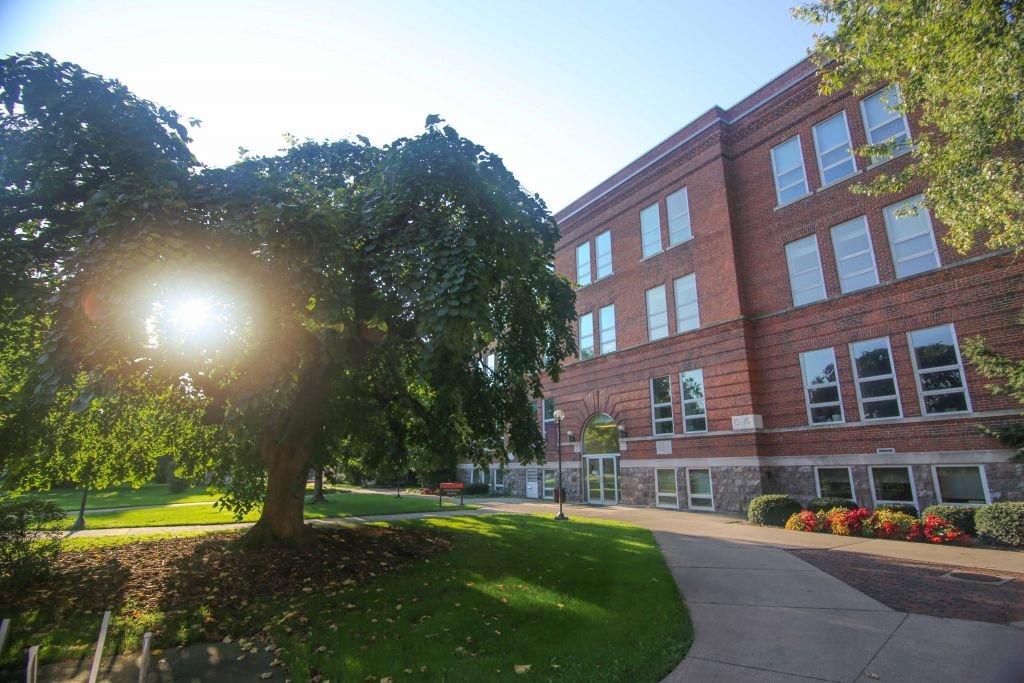 Posted 7.20.22, updated 9.16.22
As we prepare for another academic year with the existence of COVID-19 and its variants in our community, our goal is to keep people on our campus healthy so we can learn, work and connect as well as possible.
Please review each element of the plans for the 2022-23 academic year. We'll begin with the COVID-specific protocols, followed by academics and campus life.
COVID-specific protocols
Vaccinations and boosters: COVID-19 vaccinations are required for all enrolled students who are studying on campus and employees working on campus. Boosters are strongly recommended as soon as you are eligible.

Report your vaccination or booster here. If you submitted a form in the past, you don't need to fill it out again.
Medical and religious exemptions

Exemptions for students: Like other required vaccinations for students, medical and religious exemptions are allowed. If you need an exemption, read and fill out this form and submit it to the Health Services Office at health@goshen.edu by end of the day Monday, August 29.
Exemptions for employees: This form documents exemptions, due to medical or religious reasons, for this vaccine, and should be submitted to the Human Resources Office at hr@goshen.edu.

International students: If you get a vaccination in your home country, it will meet our vaccination requirement. If you received a vaccine that is not approved in the United States (namely, Pfizer-Biontech, Moderna or Johnson & Johnson), we encourage you to consult with our partner Goshen Family Physicians about whether you should receive another vaccination when you arrive that would offer you greater protection. Talk with our international student advisor, Dan Koop Liechty, if you have any questions.

Face masks (read the full policy here):

Masking is optional indoors and outdoors on campus according to individual choice and health needs. Please be kind and respectful in all settings, and honor everyone's individual choices about masking.
Masks may be required in classroom and learning settings, if indicated by the professor or instructor. Masks may be required at special public events, if indicated in event promotion. Members of the Goshen College community are expected to wear their mask when instructed to do so.
Anyone with symptoms, a positive test or exposure to someone with COVID-19 should wear a mask and follow testing and isolation protocols.
If you need a KN95 mask, they are available for free at different locations around campus, including the Welcome Center, Rec-Fitness Center, Physical Plant, Box Office and the Good Library.

Testing:

Students, before arriving or returning to campus, we encourage you to stay away from big crowds and to get tested if you have ANY symptoms.
When you arrive or return to campus, optional COVID testing will be available at check-in, and all students will be provided with one box of two rapid self-tests to use if needed during the semester.
There is no longer be daily testing availability in the Student Life Office in Wyse Hall.

Residential students who need a test should talk with your RA or resident director.
Student-athletes who become symptomatic can arrange testing with the  athletic trainer after noon on weekdays.
Commuter students: While supplies last, there are individual home tests available for students who need them in the Student Life Office.
Employees: While supplies last, there are individual home tests available for those who need them in the Human Resources Office.

COVID Reporting Form (for symptoms, positive tests): If you have COVID-19 symptoms or a positive test result, please fill out the COVID-19 Report Form. You will be contacted by a Goshen College staff member to discuss your situation further and decide next steps.
Importance of handwashing and daily symptom monitoring: The positive effects of masks and handwashing to prevent flu and colds have been remarkable, in addition to preventing COVID. We strongly encourage you to continue to regularly monitor your health and well-being, and to wash your hands often.
Isolation protocols (go here for full details):

How long do you have to isolate if you test positive?

If you test positive, submit a report to us. You're going to need to isolate for 5 days at home or in Miller Hall on campus beginning the date of the positive test.
If you have no symptoms or symptoms are resolving after 5 days, you can leave isolation and continue to wear a mask on campus at all times for an additional 5 days.
If a fever persists, isolation will continue until you are fever-free for 24 hours without medication.

What if you were exposed to someone who tests positive?
Academics and community life:
Academics: We will conduct classes in the delivery mode we were accustomed to before the pandemic. General academic questions can be sent to Beth Martin Birky in the Dean's Office (bethmb@goshen.edu).

If you need to isolate, fill out the COVID-19 Reporting Form or your class absences may be unexcused. You will need to contact your professors if you are missing class (as well as your coaches and job supervisors). And we encourage you to talk with your academic advisor with any questions about your course schedule.
Faculty are not required to provide remote learning if a student is in isolation. Instead, similar to other excused absences, faculty will work with individual students who miss class due to COVID-19 isolation to ensure that they keep up course requirements.
We are planning to go forward with many global education offerings, while continuing to carefully monitor conditions in host countries. Vaccinations (COVID and others as specified by the health needs of the location) are already required for all participants in our off-campus programs.

Campus life: We are seeking to offer a normal and vibrant residential living and community experience for undergraduate students.

Extracurriculars: Full extra-curricular activities, including athletics, fine arts events, service opportunities and other student life programming will continue to be available.
Residence life: Single rooms are available if desired, at the listed rate.
Dining hall: The Green Boxes are available again this year as a to-go option. You must bring them back in order to have them replaced with a new clean container. You should not use the Green Boxes to dine in the cafeteria and you should not throw them away or use them for other purposes.
We will continue to follow local, state and federal guidance, and make adjustments if needed.