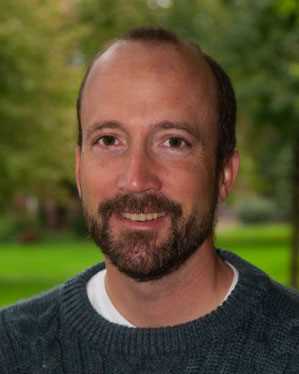 By Jonathan Schramm, associate professor of sustainability and environmental education
Scripture: Zephaniah 3:14-20 (NRSV)
Although today's passage is only seven verses long, it is worth reading the entirety of the book of Zephaniah to really let the power of these final verses sink in. Like many of the so-called minor prophets, Zephaniah is full of fiery words carrying God's judgement on ancient Israel's oppressive neighbors, but perhaps even more heavily on the religious and spiritual leaders who took advantage of the people's trust, and cynically used it to make their lives comfortable for themselves. After three chapters of this condemnation, it is with no small relief that we encounter these shining promises of God. Promises that not only will we be forgiven and freed from fear of those who would harm us (v. 15), but that our Savior will be full of love and delight on account of us (v. 17)! After times of sorrows and repentance, it is almost overwhelming to be told that God is not with us only grudgingly, but with God's whole heart, to the point of singing over us!
C.S. Lewis once wrote, in a sermon that was titled "The Weight of Glory," that we need to remember that God created us in order to be a real element in the divine happiness, and that our awareness of that grace should be our ultimate fuel for righteous living with other people, since they too were created for that same purpose. This righteousness becomes simultaneously a difficult and an easy way to live, since we must leave any self-righteousness and excuses behind. And this path requires our trust in a God who will ultimately restore justice to all the world, and rejoice with God's followers from wherever on earth they come to find a home with God (v. 20). Lord, help us to trust in your love.
Scripture: Zephaniah 3:14-20 (NRSV)
Sing aloud, O daughter Zion; shout, O Israel! Rejoice and exult with all your heart, O daughter Jerusalem! 15The Lord has taken away the judgments against you, he has turned away your enemies. The king of Israel, the Lord, is in your midst; you shall fear disaster no more. 16On that day it shall be said to Jerusalem: Do not fear, O Zion; do not let your hands grow weak. 17The Lord, your God, is in your midst, a warrior who gives victory; he will rejoice over you with gladness, he will renew you in his love; he will exult over you with loud singing 18as on a day of festival. I will remove disaster from you, so that you will not bear reproach for it. 19I will deal with all your oppressors at that time. And I will save the lame and gather the outcast, and I will change their shame into praise and renown in all the earth. 20At that time I will bring you home, at the time when I gather you; for I will make you renowned and praised among all the peoples of the earth, when I restore your fortunes before your eyes, says the Lord.