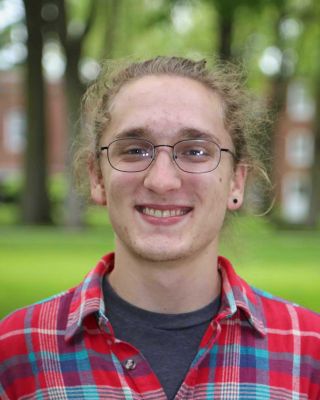 By Andrew Pauls, a senior peace, justice and conflict studies major from Kinzers, Pennsylvania
Scripture: Isaiah 9:2-7 (NRSV)
Anyone reading today's passage in Isaiah without the context of the Gospels would likely expect a warrior king. They would expect someone to forcefully break "the rod of their oppressor," someone with "authority," someone riding on a horse with armor gleaming. As we know now, Jesus, as the assumed fulfillment of this prophecy, was none of these things. He did not stage a violent uprising, he did not overthrow any rulers and his arrival did not bring sudden peace. As soon as Jesus spoke too loudly against the powers of the empire and the Jewish elite, they got rid of him. To many of the disciples, Jesus may have seemed like a fleeting flash of hope in history, yet another influential leader bumped off by the powers he decried.
Jesus' liberating legacy, however, extends beyond his life, death and resurrection. This semester I read James H. Cone's A Black Theology of Liberation, and in it, he insists the significance of Jesus' birth is his incarnation as an oppressed Jew in Roman-occupied Palestine. In this incarnation, God identifies with the oppressed throughout all of history, desiring to make the struggle of the underprivileged God's own. Though Jesus may not have brought down Caesar or Herod, he revealed God's desire for the oppressed to be free in his incarnation, giving liberative hope to all who bear the yoke of oppression. May we live in and live out this truth.
Scripture: Isaiah 9:2-7 (NRSV)
The people who walked in darkness have seen a great light; those who lived in a land of deep darkness— on them light has shined. 3You have multiplied the nation, you have increased its joy; they rejoice before you as with joy at the harvest, as people exult when dividing plunder. 4For the yoke of their burden, and the bar across their shoulders, the rod of their oppressor, you have broken as on the day of Midian. 5For all the boots of the tramping warriors and all the garments rolled in blood shall be burned as fuel for the fire. 6For a child has been born for us, a son given to us; authority rests upon his shoulders; and he is named Wonderful Counselor, Mighty God, Everlasting Father, Prince of Peace. 7His authority shall grow continually, and there shall be endless peace for the throne of David and his kingdom. He will establish and uphold it with justice and with righteousness from this time onward and forevermore. The zeal of the Lord of hosts will do this.