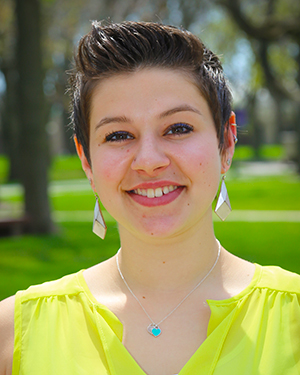 By Madeline Smith Kauffman, a junior social work major from Berlin, Ohio.
This week's theme: God gathers us together in safe shelter
Sometimes, we may experience a phase in life where we feel we are not spiritually connecting. Due to external or internal factors, we may have times when we struggle to see God's light and God's work in the world. These phases of life are disheartening and frustrating. We may call out to God, longing for a response.
I think the writer of Psalm 27 was in one of those phases where spiritual connection and seeing God's work in the world was not going so well. Psalm 27:7-9 says, "Hear, O LORD, when I cry aloud, be gracious to me and answer me! 'Come,' my heart says, 'seek his face!' Your face, LORD, do I seek. Do not hide your face from me. Do not turn your servant away in anger, you who have been my help. Do not cast me off, do not forsake me, O God of my salvation!"
The feelings of stagnancy and longing drip from the words of this Psalm. Yet, even in the midst of a struggle to see God, the writer of the Psalm promises to seek the Lord with their heart.
It's a good reminder that in times of uncertainty, in times of waiting, in times of fear, we should focus our hearts on seeking God. God's light in our lives may not always be obvious to us – and that's okay. That's normal. We can keep seeking throughout those phases. We can acknowledge that the light is there, even when we cannot see it.
Continue courageously seeking the light of God in the world this Lenten season.