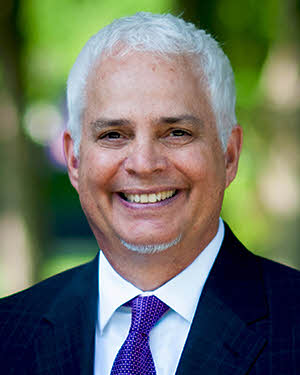 Scripture: Psalm 91:1-2, 9-16 (NRSV)
Editor's note: Apologies for when this was first posted there was an additional paragraph included in error. It has been corrected.
DEVOTIONAL:
The Lenten season is that period in the church year when we symbolically walk the last mile with Christ to his execution on the cross. It is a 40-day affair. Indeed, it parallels the first 40 days of Jesus' ministry, as well, when he fasted and prayed in the desert only to be sorely tempted by the devil to throw in the towel, to quit, to stop before he even got started. Truth be told, all of us can identify with some of Christ's agonies and temptations. We know what it's like to walk through valleys of death, disappointment, discouragement and destruction. We know the temptation to give in and give up. In Psalm 91, the Psalmist relates. He writes (v. 3-7) of night terrors, traps being set, deadly pestilence, a murderous barrage of arrows, calamities striking like earthquakes at midday, tens of thousands dying all around.
The Psalmist couches his list of agonies within hopeful first lines (v. 1-2) and a closing oracle of assurance (v. 14-16), as if to say, our fears are not the alpha and omega of our lives. Whatever terrors we may encounter, the Psalmist contains them by his rule of eight. At the outset four metaphors of protection under the auspices of four divine names provide eight layers of protection: the shelter, the shadow, the fortress and refuge of the Most High, the Almighty, Lord, and God. If that's not enough, the Psalmist binds our fears from behind with an eightfold blessing (v. 14-16): I will deliver, I will protect, I will answer, I will be with, I will rescue, I will honor, I will satisfy, I will show them my salvation!
We know that sometimes we will be tempted to use this rule of eight as a form of magic protection slung around our necks as an amulet against evil, just as Jesus was wont to do when the devil came to him in the desert. Like him, however, we say no, to such formulaic use. With Christ, and the Psalmist's rule of 8, we instead know the intimacy of God with us, we know the power of overcoming of our fears and we will experience protection against ultimate calamity. Christ's resurrection at the end of his Lenten experiences invites us to let go of our fears whatever they may be and hold on to the promise of God's salvation.
Scripture: Psalm 91:1-2, 9-16 (NRSV)
You who live in the shelter of the Most High, who abide in the shadow of the Almighty,

2will say to the Lord, "My refuge and my fortress; my God, in whom I trust."

9Because you have made the Lord your refuge, the Most High your dwelling place,

10no evil shall befall you, no scourge come near your tent.

11For he will command his angels concerning you to guard you in all your ways.

12On their hands they will bear you up, so that you will not dash your foot against a stone.

13You will tread on the lion and the adder, the young lion and the serpent you will trample under foot.

14Those who love me, I will deliver; I will protect those who know my name.

15When they call to me, I will answer them; I will be with them in trouble, I will rescue them and honor them.

16With long life I will satisfy them, and show them my salvation.