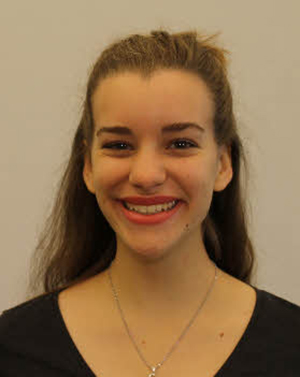 By Genevieve Cowardin, a junior nursing major from Harrisonburg, Virginia
This week's theme: Christ is risen, indeed! 
One of the things that I have come to truly love about exploring faith and building a relationship with God is the fact that there are so many pieces of it that are completely unfathomable to me. "How could this possibly be so" is a common question I find myself in awe or confusion with. And yet, it is.
This week's Psalm verse tells us that "God's love endures forever." Forever? What even is forever? Yet, we accept that God's love always has been and always will be. And isn't it beautiful to rest in feeling that the unfathomable is true?
And this love is around all of us. As Peter speaks in Acts 10:34, "I now realize how true it is that God does not show favoritism but accepts from every nation the one who fears him and does what is right." God accepts each individual who wishes it to be so, no matter where they are from. There is no favoritism either. We are each equally and highly valued. How can we wrap our minds around that when our world clearly shows those who are favored and privileged by society and those who are not? More importantly, how does that change us and our actions towards each other if we know that we are all equally and closely held near to God?
One of the biggest and most unfathomable pieces of the Christian faith is, of course, the resurrection of Jesus. Even Mary Magdalene, who knew Jesus well, thought at first that Jesus was the gardener, not the Lord risen back to life. Our human minds will first see what makes sense to us; it is not until Jesus calls us to look further that we begin to delve into the unfathomable as truth. And what a beautiful and remarkable chance is it to do just that.
At Goshen College from March 26 through April 5th, the Clothesline Project was presented in Schrock Plaza. For those of you unfamiliar with this project, it is the artistic expression of experiences of sexual assault and the resistance movement against violence. T-shirts that have been decorated by the Goshen Community through the years are hung on a clothesline, in a sense airing out the dirty laundry. As I walked through it this year, one of the T-shirts had these words written on it: "'They will neither harm nor destroy on all my holy mountain,' says the Lord." These words struck me deeply, and I have been carrying them with me since then. Imagine my surprise when I realized they were the last line of the Isaiah passage for the week, so I will leave you with this thought: If the unfathomable ideas that God's love endures forever, that God has no favoritism, that Jesus can rise from the dead are all true, then why can't it be true that the harm and destruction will end on God's holy mountain? What can we do to make that be so?