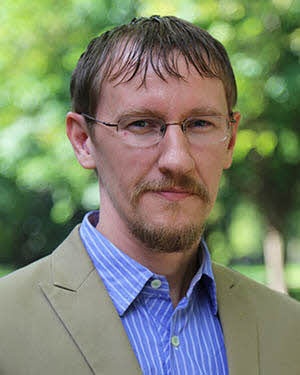 By Andrew Hartzler, associate professor of accounting
Scripture: Isaiah 12:2-6 (NRSV)
This week's Advent theme is "Freedom:  The Path of Trust." The text for today gives us a road map to finding true freedom through a reliance on and a trust in our Creator God. It gives us an antidote to fear: "Surely God is my salvation; I will trust, and will not be afraid."
As humans we spend much of our lives wrapped up in our thoughts. Often those thoughts focus on our fears, both large and small. We have a couple of options on how to deal with those fears; one option is human reason and the other is a desperate cry to our Creator. As image bearers of God we sometimes are foolish and/or prideful enough to think we can take God's place and handle our fears on our own. In my experience, there is no peace and no relief from fear through rationalization and reason. It is only when I search beyond myself for the one who created me that I find my salvation. Today's text proclaims this truth, "For the Lord God is my strength and my might; he has become my salvation."
Our temptation as humans is so often to "go it alone;" whether by not trusting in and asking for God's help, or by denying God's power or existence altogether. God has made himself real to me so many times, in so many ways, that I can rejoice in the freedom I've found by trusting in him. So I join with Isaiah in saying, "Give thanks to the Lord, call on his name; make known his deeds among the nations; proclaim that his name is exalted."
Prayer:
Lord, help us in our unbelief to trust in your saving power. Help us to relinquish our hold on our fears and turn them over to you. We desire to experience the freedom of resting in your loving arms.  
Scripture: Isaiah 12:2-6 (NRSV)
Surely God is my salvation; I will trust, and will not be afraid, for the Lord God is my strength and my might; he has become my salvation. 3With joy you will draw water from the wells of salvation.

4And you will say in that day: Give thanks to the Lord, call on his name; make known his deeds among the nations; proclaim that his name is exalted. 5Sing praises to the Lord, for he has done gloriously; let this be known in all the earth. 6Shout aloud and sing for joy, O royal Zion, for great in your midst is the Holy One of Israel.