Set Goals: Transformed Learning Community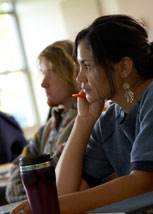 A transformed learning community is an overarching goal of the Center for Intercultural and International Education(CIIE) to create an intercultural learning community for all Goshen College students that prepares them for the communication, understanding and collaboration skills needed in the twenty-first century.
Rationale
Consider a world in which the road rises to meet you and one in which other people traversing that same route focus as much on sharing stories along the journey as they do on reaching their destination. That's a reality CIIE seeks. The most prevalent approach to education does not take a student's cultural context into account, and as a result minority students are often left to forge fresh paths to success. CIIE believes that intercultural transformation – the shift in mindsets that happens when people from different cultural backgrounds listen to and inform one another – lies at the heart of societal success and peace-making. By equipping students and educators with the skills they need to better relate to and learn from each other we prepare them to go out into the community and effect change wherever they go.