Find Your Footing: Student Leadership Program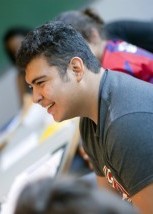 Each year Goshen College selects a group of Latino students coming to the college directly from high school to participate in a learning community that supports their academic ambitions and lifelong success.
The goal: to develop intercultural skills that contribute to effective interaction and peaceful communities.
What we provide to & Expect from Participants
At the Center for Intercultural and International Education (CIIE), we believe in the power of community support: familial, social and academic. To ensure a successful transition to college life, students in the program work with a bilingual enrollment counselor liaison and have access to academic support counselors.  Hear our stories.
Additional program benefits include:
Up to full tuition
Leadership opportunities
Service-learning activities
Educational enrichment programs
Community building activities
Three-credit hours earned in the SALT program
Participants are required to attend the Summer Academic Leadership Training (SALT) program for three weeks during the summer before enrolling on the Goshen College campus as well as the multicultural affairs orientation prior to New Student Days.
Qualifications
In order to qualify, students must meet the criteria below:
Be of Hispanic/Latino heritage
Be a U.S. citizen or permanent resident with a valid permanent resident card
Have a cumulative high school grade point average of 2.75 or above
Complete an application by state deadlines for federal and state financial aid (FAFSA)
Be a student entering Goshen College directly from high school
Be a first-generation college student
Priority for selected recipients is given to Indiana state residents, though we also encourage out-of-state students to apply.
Application Process
To be considered for this program you must submit the following to the Goshen College Admission Office:
Recipients will be invited to interview on campus or by telephone.
Application Deadline
All application materials must be submitted by 5 p.m. on December 15, for priority. Additional applications will be reviewed based on available funding.
Expectation for Renewal
This award is renewable for up to eight consecutive semesters by maintaining a 2.5 college grade point average. All award recipients are expected to:
Participate in the research activities of CIIE
Participate in a minimum of one club and/or student organization
Meet regularly with leadership staff
Participate in leadership development activities