Programs
Martin Luther King Jr. Study Day
Each year Goshen College honors the life and work of Martin Luther King Jr. by holding an all-school Study Day, emphasizing the values and ideals that characterized King's work. Find out about the 2013 MLK Jr. Study Day – "Shalom: That we may be whole"…
Voices-n-Harmony Gospel Choir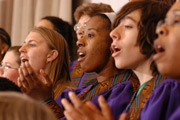 Voices-n-Harmony meets every Thursday at 5:30pm in the Music Center room 153 while classes are in session. Under the direction of Nicole Williams, the choir includes students, faculty, staff, and community members from a mix of racial and ethnic backgrounds who sing to proclaim the power of God's love. New members are welcome! Contact Yolo Lopez-Perez at yoloel@goshen.edu for more information.
Mosaic
Mosaic is a campus-wide organization to promote ethnic diversity and anti-racist actions on the individual and institutional levels. Monthly meetings on Wednesday at 10am update the whole group on current activities and events. Task forces meet to focus energy in the areas of:
Campus Education (planning antiracism training, speakers, Ethnic Diversity Circles)
Community Outreach (connecting the campus and community through activities and events)
Student Recruitment and Retention (hosting prospective students and assisting admissions in communicating with minority students about opportunities at Goshen College)
Student Leadership Retreat
The student leadership retreat offers an excellent opportunity for students to acquire validation of their leadership role and develop leadership skills necessary to lead more effectively. Emphasis will be placed on the participants' performance outcomes in three key areas: Community building, Communication, and Shared Vision.
Course Enrichment Grants
Faculty members are able to apply for small grants which will help increase their awareness of multicultural education and affairs issues as well as assist them in incorporating multicultural perspectives in courses. All teaching faculty are invited to apply for these grants.
Hispanic Day
Hispanic Day is an annual opportunity for high school students to visit a college campus, hear from current college students about what college is really like, learn about financial aid and the admission process, and get information and literature from several area colleges. Colleges represented include Goshen College, Ancilla College, Holy Cross College, Indiana University at South Bend, and Ivy Tech Community College.
Peace of the Arts
Peace of the Arts is an after school program that cultivates self-esteem, intercultural dialogue, and awareness through peaceful mediums and creativity. Middle school and high school students participate in either the performing arts or visual art workshops.