Standing Up and Speaking Out:
Daisy Gaspar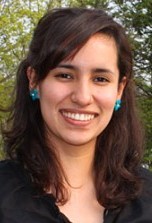 Daisy Gaspar is a sophomore and is majoring in elementary education. She is among the students who came to Goshen College thanks to the Center for Intercultural Teaching and Learning (CITL). Parts of Daisy's story may seem familiar because you also have overcome many challenges – just like Daisy. Daisy's is a of a dream starting to come true at Goshen College.
Daisy's parents, Martin and Maria Gaspar both were born and raised in Mexico. They came here, like so many others, to live a better life. Today, Maria Gaspar works in a Goshen factory and Martin works in a turkey processing plant. They both work very long and very hard hours. In fact, they're usually exhausted when they come home.
Daisy's parents didn't get much education, but they wanted something better for their daughter. They encouraged Daisy to go to school and then to college.
Daisy was born and grew up in a place just west of Chicago in a neighborhood called Little Village — La Villita. That's a Latino area known as the "Mexico of the Midwest." Daisy lived in Mexico when she was in second and third grade; that's when she learned to speak Spanish fluently. But her home was always Little Village.
That's also where Daisy discovered that she wanted to become a teacher. As Daisy tells it, "In seventh and eighth grade, I taught Catechism. And during the summers, I helped in summer school while in seventh and eighth grade… Throughout high school, I also wanted to teach."
Four years ago, Daisy's family moved from Chicago to Goshen so her parents could get jobs. It wasn't the easiest adjustment for Daisy. It was tough leaving her Chicago neighborhood to go to Goshen High School, which was predominantly white. Daisy said she didn't fit in, and she went back to Chicago every weekend to visit friends.
But Daisy stuck it out and graduated from Goshen High School in 2008. Of the colleges that she considered, Goshen College was last on Daisy's list — even though her home is only a mile away. Daisy said she knew Goshen was a private, Christian college, but she didn't know anything else. She planned to go to Indiana University (IU) in Bloomington. In fact, she attended a summer program at IU after graduating. But that summer, Daisy changed her mind. IU was big, but she didn't think it would provide the support she wanted. She met with Liliana Ballge, who persuaded Daisy to consider Goshen College.
Daisy ended up enrolling in Goshen College in fall 2008, and she says it's been a great experience. Daisy said she enjoys her liberal arts education because she's getting to know about many things — science, art, music, athletics, her faith — and more. Daisy is involved in the Voices-n-Harmony gospel choir, the Salsa Club, the Latino Student Union, CITL, the Goals for the Future Community Service Project and the Service Inquiry Program.
Daisy also enjoys chapels and convocations and guest speakers. And she's looking forward next year to going to Senegal as part of the Study-Service Term so she can use the French she learned in high school.
When asked what she would tell a Latino student considering Goshen College, Daisy's response included this:
"The experience being in a smaller school, compared to an IU university, is that you will feel more at home within the school. You will get to know the teachers better. You won't feel left out, definitely. You will feel comfortable because everyone here on campus makes you feel comfortable, no matter what. There's a lot of respect here."
This is what Daisy said about her studies:
"The academics are great. The teachers are there for you to help you after school or before school. They're all willing to be available, and if you don't understand, there are always tutors. There's a good tutor system and writing center. Part of being a smaller school is it makes it easier to have more of those resources available to you most of the time, compared to other places."
Daisy said that she also has come to appreciate her CITL classmates:
"It's called a cohort, but it's more of a family. I think the best times of CITL are the meetings, and not just because there's food but because we all get together. Besides getting down to our tasks and our activities, we like to talk about how our week or our month is going and we just have fun."
Daisy is focused on her studies and her goal of serving the Latino community by becoming a third-grade teacher: "I want to become a good teacher. I want to be a teacher who will influence kids and give them a good perspective to let them like being in school."
In November 2009, Daisy was among 32 outstanding first-generation college students from across Indiana honored at the "Realizing the Dream" banquet in Indianapolis. The award was sponsored by Independent Colleges of Indiana, from the Lilly Endowment, and entitled Daisy to a $2,000 grant. The award was given in recognition of Daisy's superior academic performance during her first year of college and her leadership on the campus and in the community.


More Stories