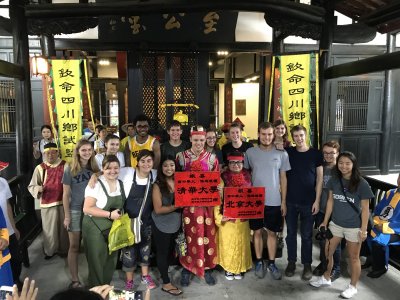 We met Saturday morning at the Nanchong north station and with our program assistant Wang Ying continued north on the high speed train to Langzhong, a continuously-preserved ancient city of the Three Kingdoms period (220-280 A.D.). Within 90 minutes we were in the gates of the old city and found our hotel, a 300+ year old former merchant's home with several tree-lined courtyards. After some free time to find lunch and explore, we visited three historic sites  – the Imperial Examination Room, the Zhang Fei Temple, and the City Watch Tower.
At the Imperial Examination Room, one of China's provincial-level examination halls from the Qing Dynasty (1616-1911) we learned about the grueling nine-day exam taken by hopeful scholars. If they passed, they were given a coveted role in government leadership. Carter and Amy had featured roles in a reenactment of the process, sitting in the cell-like space to "write" their exam before they were ceremoniously marched to the examiners table to hear the verdict (they both passed with flying colors). Here is a short video from the event:
After seeing the views from the city's central watch tower, we visited the temple of Zhang Fei, a warrior nicknamed the "General who Conquers the West." On Saturday evening before dinner along the Jialing River, we were given a private showing of a leather puppet show performed by artists with a five-generation family tradition. Some of our group were able to go back stage to try the art themselves.
Langzhong is known for its vinegar production. Walking the narrow and vehicle-free streets of the old city means encountering the sight and smell of dark and rich vinegar all around, sold for both medicinal and cooking purposes. Our day closed with soothing vinegar foot baths and vigorous foot massages for everyone. We were amazed that we could do this as a full group; the experience provided a nice mix of hilarity and therapy.
On Sunday morning we had a little more free time to explore before leaving for the Baba Temple, a serene Hui Muslim burial shrine and garden. It was built by one of the first Muslim immigrants to Langzhong. Our drivers took us to their family restaurant for a delicious lunch of Muslim noodles with lamb, and then to the White Tower, the highest peak above Langzhong located in a park infused with fengshui elements. Our final stop was another mountain park to see one of China's many giant Buddhas.  1200 years ago, a rich 60-year old merchant from Langzhong dedicated 20 years to carving this Buddha as atonement for his life of making money.  We wandered the park before returning home by rented bus, more steeped in Chinese history and life beyond the busy city of Nanchong than before, and grateful to our Chinese guides and friends for sharing their knowledge and connections.