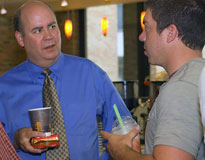 References and/or letters of recommendation are usually a necessary part of your job search. In fact, once an employer narrows their list of potential candidates, references are often the determining factor for which candidate gets offered the position.
While letters of recommendation are generally requested before a potential employer meets you, references are most often requested after an interview. There are three general reasons for needing references or letters of recommendation:
Employment recommendation- most often written by a previous or current employer for the purpose of obtaining employment. It can also be written by a professor for a recent graduate.
Academic recommendation- written by a teacher or professor for the purpose of getting accepted into a school (undergraduate and graduate).
Character reference- often written by a friend and can be used to assist in getting a job, winning an award, etc.
Who to ask for a reference or letter of recommendation
Generally, you should be able to provide a list of at least 3-5 individuals who can speak about your skills and qualifications. It's important to carefully choose your references. Ask if they are able to give you a strong reference BEFORE you include them on your list. If anyone hesitates or has reservations, look elsewhere.
Some people in your life whom you might considering asking are:
Professor or other faculty member
Work supervisor (current or previous)
Academic advisor
Coach
Pastor
Provide each reference with a copy of your résumé and convey to them why you are applying for the particular position. Include any information you would like them to emphasize if they are asked for a recommendation.
Be sure to keep your references up to date on the status of your job search, especially when you accept a position!
Sample reference page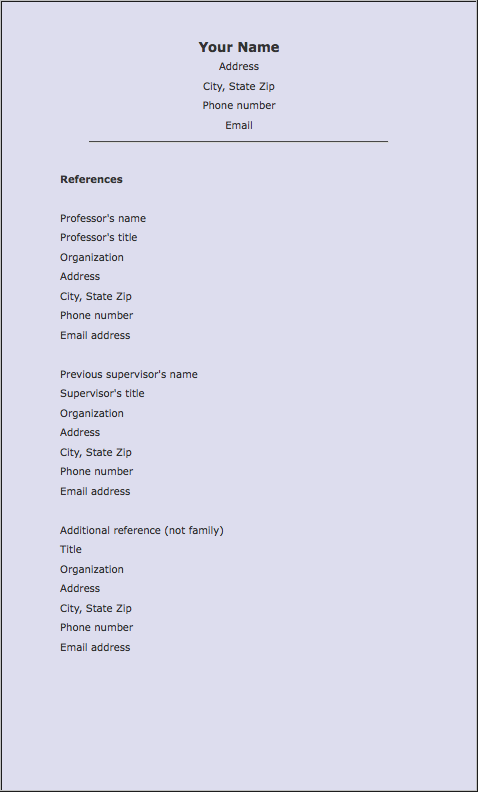 Your references are generally on a separate page from your résumé, but the heading should match your résumé. The following is an example.

How to request a letter of recommendation
Give your writers plenty of time so they aren't forced to quickly construct one. A minimum of three or four weeks is customary for graduate school requests, though the time frame could be much less for an employment request. Check back a few days before the deadline to ensure that the letter has been sent or faxed.
Give your writers a well-organized, thorough packet of materials. Ideally, these elements should include:
A current copy of your academic transcript showing the courses you've taken and the level at which you've performed. This does not have to be an official copy; a photocopy of your record is fine
A copy of your résumé
If applying to graduate school, a copy of your statement of purpose (if the school has requested such a statement)
If applying for a work or service position, a copy of the position description
A pre-addressed envelope for each letter with postage affixed (if the letter is being sent via postal mail)
Any forms that should be submitted with the letter
A cover note briefly listing:

Your contact information in case the writer needs to reach you
The deadline for each letter you need
Your career aspirations and the type of position you are applying for
Information you would like emphasized in the letter
If you are asked to indicate whether or not you waive access to your right to see the letter of recommendation, we recommend you answer affirmatively (that you do waive the right). Answering otherwise gives the appearance of not trusting your letter writer, and it dilutes the effectiveness of the letter.
By adhering to these general guidelines, you will increase the chances of getting good letters of recommendation and ultimately securing the position you seek.