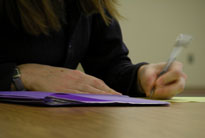 A cover letter should accompany every resume you send out. The purpose of the letter is to introduce you and your resume to a potential employer. Effective cover letters are tailored to the position you are applying for.
Preparation
Conducting some research will enable you to better articulate the abilities that make you a good match with the position and the organization.
Research the organization:
What new initiatives has the organization recently started? Have they won any awards? What are the organization's current challenges? Read about the organization online or in newspapers/magazines. If you know individuals who work at the organization, talk with them.
Research the position:
Review the advertisement or job description and highlight or underline the required experience and abilities. Jot down notes of how you meet the requirements, including specific examples of times you demonstrated the abilities.
Research who to send the cover letter to:
Address every cover letter to a specific person, preferably the person who has the power to hire you. If you don't know who to address the letter to, call the organization and ask for the name and title of the appropriate person. (Ask for the correct spelling, too!) Never address a cover letter "To Whom It May Concern" or "Dear Sir/Madam."
Formatting and Length
Cover letters follow standard business letter format. The top margin should be at least one inch; the other three sides should be a minimum of one half inch and a maximum of 1.25 inches. Keep your letter clear and concise; write three to four paragraphs that fit on one page.
Use 10 to 12 point Times New Roman, Arial, or another common and easy-to-read font. Be consistent; use the same font as your resume.Single space within paragraphs; double space between paragraphs. If you are printing and mailing the letter, use the same color and quality grade of paper as you used for your resume.
Content
The cover letter is often the first written contact with a potential employer. It demonstrates your written communication skills and creates an important first impression. Follow these tips as you write the content of your letter:
Expand on your resume.
A cover letter should complement, not duplicate your resume. Focus on two to three key points within your resume and provide detail about those areas.
Tailor every letter.
Do not send the same form letter to every potential employer; effective cover letters are custom designed for each recipient. Tailor each letter to demonstrate skills relevant to the position and organization.
Name the position.
The recruiter who reads your letter may be hiring for several positions. Clearly state the position you are applying for in the first paragraph of the letter. If you are simply writing to inquire about potential openings, indicate what type of position you are interested in.
Demonstrate knowledge of the organization.
Use the research you've conducted and incorporate information that illustrates your knowledge of the organization. For example, you could mention a recent merger or an award the organization earned.
Keep tone and content professional.
The cover letter is not an appropriate place to exhibit your comedic skills or to discuss anything personal; however, a genuine show of enthusiasm can set you apart from other candidates.
Be specific.
Anytime you make a generalization, back it up with a specific example.
Focus on what you will do for them.
Don't waste time telling them what a good opportunity this will be for you. Instead, tell them what you can do for them.
Avoid humility and arrogance.
The purpose of a cover letter is to convince the recruiter you are worth interviewing – this isn't the time to be humble! Accurately illustrate your skills/abilities. At the same time, carefully monitor your tone to ensure the letter doesn't sound arrogant.
Tell the reader what you will do next.
State how you will follow up after submitting your resume and cover letter. Unless the advertisement specifically requests "no calls," indicate you will call within a specified time to arrange an interview. Demonstrate assertiveness.
After you've written a draft of your cover letter, take time to revise and strengthen the letter. Proofread. Then proofread again. Recruiters will use your cover letter to assess your communication and writing abilities – typos and grammatical errors are signs of carelessness. Don't simply rely on spell check:
Read your letter out loud to catch typos and awkward phrasing.
Ask others to read your letter and offer suggestions.
Schedule an appointment to have Anita Yoder, director of Career Services, review your cover letter.
Additional resources
"Don't Make These 10 Cover Letter Mistakes" article from QuintCareers.com
The Good Library contains sources for advice on writing cover letters. In the library catalog type "cover letters" in Browse and choose "subject."
CareerSpots.com – view a short online video to assist you in writing your cover letter
CareerBuilder.com (scroll down for several articles about cover letters)