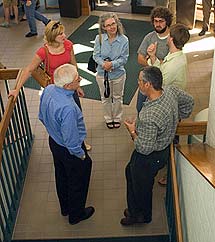 What and where is the Career Services office?
The Career Services Office provides comprehensive career development resources to Goshen College students and alumni at all levels of their careers.The office provides information and assistance with resume and cover letter writing, interview preparation (including Super Tuesday practice interviews each semester), career advisement, choosing a major, job search techniques, opportunities through the online Job and Internship Bank, and via our extensive web site.
We are located on the first floor of the Administration building in the Student Life suite (AD 14) and open from 8:00 am to 5:00 pm, Monday – Friday.
-Top of page-
When should my student visit the Career Services office for the first time
All students are encouraged to utilize Career Services throughout their college experience. Whether your student is in his or her first year and exploring career options or a senior looking for full-time employment, it's not too early or too late to visit our office.
Setting up an appointment is easy. Students can call our office at ext. 7547, email us at careersices@goshen.edu, or simply stop by AD 14!
-Top of page-
How will having a liberal arts degree affect my student's career?
A liberal arts degree provides the framework which gives meaning and significance to situations in the working world.
The two most important words to every liberal arts job seeker are "transferable skills." Statistics indicate that students will likely change jobs an average of eight times, and perhaps change career fields two or three times throughout their life. The skills taught in liberal arts courses – creative and analytic thinking, oral and written communication – are needed on every job in every field. Technical skills are often taught on the job.
The liberal arts degree prepares students for the future. Many jobs today were not even in existence ten years ago, and we don't know what the future job market holds. But we do know that it will probably be a liberal arts graduate leading the way. Our students are employed in virtually every field of employment, and they all started with a liberal arts degree.
Adapted from Dr. Kate S. Brooks, Director Liberal Arts Career Services, The University of Texas at Austin
-Top of page-
How can I best help my student in his or her career preparation?
The single most important thing a family member can do to help their student's career preparation is listen. Listen in a non-judgmental way to their hopes, dreams, and concerns. Share your thoughts and suggestions when requested.
Beyond this, family members can encourage their student to take steps in his or her career preparation like writing a résumé, completing one or more internships and conducting a practice interview.
In addition, remember to be patient. Career planning does take time. Chances are fairly high that you will hear, "I've changed my mind," on more than one occasion. Your student will appreciate your support even more during these times.
Please see the Getting Involved section of this site for more ideas.
-Top of page-
Can I visit Career Services to discuss my student's career options?
We are pleased to provide parents and family members with career-related information.
It is essential, however, that your student assumes the primary responsibility for his or her own career preparation. If your student expresses a career-related question or concern, please encourage him or her to contact our office directly.
-Top of page-
How can I assist my student in choosing a major?
A common misconception is that choosing a major equals choosing a career. The beauty of a liberal arts degree, however, is that it provides a person with transferable skills which are helpful in any career. Therefore, students should choose a major where they will enjoy the classes, relate well with the professors, and be able to earn good grades.
During a career counseling appointment, we can assist your student in defining his or her interests, skills, and values. Often this is done through self-assessment exercises. Once options are identified and narrowed down, we will assist your student in evaluating options by researching occupations associated with each major.
-Top of page-
What is an internship?
An internship is a carefully monitored work or service experience in which a student has intentional learning goals and actively reflects on what she or he is learning.
Internships are designed to provide students with pre-professional experience before they graduate. This allows them to test various career options while developing communication, teamwork, leadership, and other industry specific skills. The experience is a great addition to their résumé and employers expect that students will have obtained this experience while in college. We encourage every student to participate in at least one internship.
In general, internships:
Typically last from three to six months
Are a one-time experience
May be part-time or full-time, paid or unpaid
Are often awarded academic credit
Find a reasonable balance between the intern's learning goals and the specific work an organization needs done
Promote academic, career and/or personal development
How does my student find a work-study job?
Work-study is a federal program that creates jobs for students with financial need so they can earn money to pay for educational expenses.
Please note that eligibility for work-study does not guarantee your student a job. Your student is responsible to find his or her own work-study position. Career Services is happy to assist students, but we do not place them into specific positions.
Most available work-study positions are posted on the GC job & internship bank (www.goshen.edu/jobs). Some positions are also posted in the Communicator, a daily online announcement system. Many positions are filled quickly, so encourage your student to look early!
Occasionally work-study positions are not posted. Your student may want to consider practicing networking skills and personally contacting offices and departments. This can be great practice for finding positions in the hidden job market in the future.
Questions about your student's work-study eligibility, including the awarded amount, can be directed to the Financial Aid office.
-Top of page-
What should my student do if he or she is considering graduate school?
Students who are interested in graduate school should meet with professors in their discipline of interest to discuss graduate school options. Career Services can advise students about general admission requirements and critique their personal essay.
Encourage your student to review the graduate school section of the Career Services web site and make an appointment with his/her academic advisor.
-Top of page-
Will you find my student a full-time job for after graduation?
Our role is to act as an educational office, rather than a placement agency. While we offer tools and resources to assist students in their career preparation, it is ultimately each student's responsibility to make decisions toward their career goals.
Some ways we assist your student include:
GC job and internship bank – employers who post positions here are often looking specifically for Goshen College students and graduates.
Individualized appointments and group workshops – students who avail themselves of these career preparation resources report feeling better prepared for employment after graduation.
Reviewing a résumé – a professional résumé accurately depicting your student's skills and experience increases the likelihood that he or she will be called for an interview.
Conducting a practice interview – this preparation will ease nervousness during a real interview and help him or her prepare effective answers
Career & internship fairs – we maintain an online list of upcoming regional and virtual job fairs.
Web site – our web site provides comprehensive career development and job preparation information, customized for GC students. It also contains links to many regional and national online job banks.
Alumni Networking – the extended Goshen College community has much expertise and is generous in their willingness to speak with current students. Students may request names of alumni through our office and are also encouraged to join the online GC alumni group through Linkedin.com.