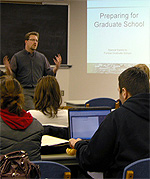 Each semester Career Services hosts a Graduate School Admission Seminar. Here are a couple resources used during the seminar:
In addition, GC employees are prepared to counsel you about graduate school decisions:
Departmental professors are available to counsel students considering graduate school. Make an appointment and meet with a professor to talk about graduate school options in your particular area of study.
Anita Yoder, Director of Career Services, is available to counsel students unsure of whether to enter graduate school or the job market.
Sample grad school admission interview questions:
Web resources
Career Services has subscribed to The Chronicle's 2010 in-depth doctoral ranking tool. Search and compare programs in your field of interest.
An excellent resource for graduate information on over 49,000 graduate school programs. Perform searches by subject area.
Search for graduate school, law school, doctorate and MBA programs by major and state. Sections cover admission tests, financial aid and more.
Informational website with many resources useful to current individuals looking to enter or advance a career in business
Online Schools aims to be the premier portal for online education on the web.
Information specifically for students regarding choosing a school, financial aid, and admission tests.
Information you need to know about the major standardized tests which are only given on certain dates throughout the year.
U.S. News & World Report provides graduate and professional school rankings and is a comprehensive resource to information on colleges, graduate schools, financial aid and careers.