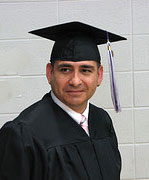 An application for financial aid will generally come either as a part of your application packet or in a separate mailing from a campus financial aid office. Obtaining financial aid for graduate studies is not dependent on whether you received it as an undergraduate.
Make sure that you read all financial aid materials carefully and always file documents on time! When aid money is limited, institutions tend to use deadlines as a way of limiting the pool of applicants.
There are three basic ways to finance a graduate education: fellowships, assistantships, and loans.
Fellowships
Fellowships are grants that are generally awarded on the basis of academic merit. They are similar to college scholarships and they are granted by the graduate school, private foundations, government, business institutions, etc. Fellowships generally provide payment of tuition and a stipend for living expenses.
Assistantships
Teaching assistantships are paid work opportunities that may involve leading a discussion group, supervising a laboratory, grading papers, and occasionally lecturing. The typical appointment involves approximately 20 hours a week. These assistantships also provide excellent experience for graduate students preparing for a career in college or university teaching.
Research assistantships are probably the most important source of money for science/engineering graduate students. This support is usually available as you enter your thesis work and is funded by a professor's grant.
Loans
Federal loans are an important source of support for graduate students. The federal loan program is need based. Federal regulations make almost all graduate students independent of parental support unless they are claimed as dependents on their parents' federal income tax return.
For further information, visit GradLoans.com.
Additional resources



from the American Association of Medical Colleges




from the Graduate Management Admission Council




The Good Library
The library has sources of information on financial aid. Check out these call numbers in the Career Resources area: Career LB 2337.2 and Career LB 2338