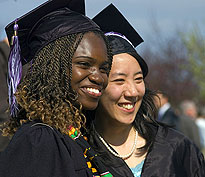 The first step to choosing a graduate school is researching schools and programs that interest you. Once you have completed your research, you should identify four to ten graduate schools of varying competitiveness and reputation that you wish to apply to.
Questions to consider when choosing a graduate school
Use the following questions to help guide your search as you begin researching possible schools:
Does this program meet your academic needs?
What stands out about this program?
How accessible are the professors at the school for mentoring purposes?
How prestigious is this school? Is prestige important to you?
What kind of jobs do graduates of this program find?
What is the placement rate of graduates in this professional program?
Is this program likely to admit you? Do you meet all of the program prerequisites?
What is the combined cost of tuition and living expenses? Can you afford this school?
What is the size of the school or program? Would you be comfortable with this size?
Are you willing to move? If so, what is the cost of living? What is the climate like?
Ways to research graduate schools
Look online

GradSchools.com is a comprehensive online source for graduate school information. Check out the graduate school web resources page for more sites.

Talk to professors and individuals in your chosen field

Find out where they went to school and where they would recommend.

Review course catalogs

Catalogs give you up-to-date information on any college or university program that interests you. Collegesource.org is a virtual library representing thousands of college catalogs in full cover-to-cover.

Visit the Good Library on campus

The Career Resources section in the Reference Room of the library contains a wealth of information including comprehensive and specialized school directories and information on finding funding. Also see their web page: Post-College Resources