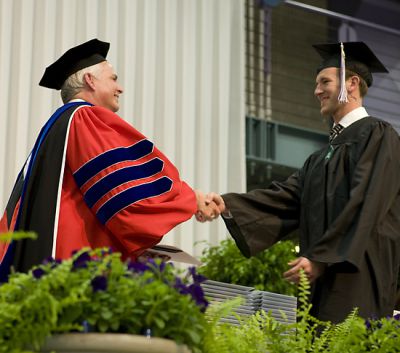 As graduation approaches, every student is faced with decisions about what comes next. If you're considering education beyond your undergraduate degree, this section is intended to increase your familiarity with the process and enable you to better utilize resources and services available here at Goshen College and on the web.
There are generally two reasons for attending graduate school:
Certain careers require specialized training (ex. psychologist and medical doctor)
To do research or advanced study in a field that is of great importance to you
Although many students choose to go directly to grad school after completing their undergraduate degree, it's also fairly common to wait a few years. This time spent working or completing service can help you clarify what your future goals are.
Should you go to grad school?
Maybe, if you can answer "YES" to these 5 questions (provided by Virginia Tech) :
Are your career goals focused?

Before you head to grad school, define your career goals — long and short term. This is essential. If you have no destination, you can't effectively choose a road to get there.

Research the occupation(s) you want to enter when you complete your education. Make sure you know:

Educational requirements to enter the line of work
Additional requirements — certification, licensure, etc.
Competitiveness of the job market
Settings in which people do the job
Characteristics of people who are successful in the work

Are your career goals still vague at this point? Then you're not ready yet to apply to grad school. Make an appointment with Career Services or your advisor to get some help figuring out where you are headed.

Are you competitive for admission?

Familiarize yourself with the entry requirements for the grad schools that interest you. Do your credentials put you in the running? If not, what can you do for a year or two to get in the running (work experience, other graduate courses, etc.)? If you don't know, contact the schools you'd like to attend and ask.

Can you afford it, finance it, or get funding?

Graduate school can involve going into debt, applying for financial aid or assistantships, writing proposals to get grant funding or a mixture. Have you researched this? Is the payoff worth the cost?

Can you handle the workload?

Graduate school is not like undergraduate school. The expectations and the workload are much higher. Do you have strong self-discipline, excellent time management skills, and can you juggle graduate school with other aspects of your life — personal and professional?

Will you be more marketable for employment when you finish (or just more frustrated)?

Getting a graduate degree does not guarantee you a job. The job market doesn't have feelings and it doesn't create jobs just because people happen to be trained for those jobs. Make sure there's an expected market for your skills when you finish, and that you'll be competitive in that market. Know your competition. For example, if most people in your graduate program have work experience before graduate school, and you don't, that makes you less competitive.
Types of graduate degrees
Master's degree (average of 1-2 years of study)
Research master's degree – Designed for students to gain expertise in research or scholarship, often a step towards a Ph.D
Professional master's degree – Often a terminal degree meant to prepare students to work in a specific field (ex. counseling, education, physical therapy)
Doctoral degree (average of 4-8 years of study)
Research doctoral degree – Also known as the Ph.D (Doctor of Philosophy), involves course work and a major research project
Professional doctoral degree – Typically refers to the M.D. for medical practice and J.D. for law